How To Easily Make Your Google Analytics CCPA Compliant
Wondering whether your Google Analytics is CCPA Compliant? Google Analytics is used by almost the website to track their visitor behavior and website performance. But You can't simply collect anyone's data so we need to make Google Analytics CCPA Compliant.

In today's world, where the system is getting more and more advanced and you can get someone's personal information just by a click. So there is an urgent need for a law that protects your data and keeps it secured. A similar law was made for the residents of California, CCPA, California Consumer Privacy Act. The law came into effect on the year 2020, January 1, and was imposed from July 1, 2020.
Now let's talk about this act, it keeps a record of the personal data of the consumer and is a very well-known act. It protects the privacy rights of the user. And they are well informed of the data that is being stored and how it will be used for a better user experience.
Now, the residents of the U.S.A are embedded with certain rights under this law,
The citizens have the right to see what data about them is collected about them in the past 1 year.
They are allowed to know what data is being stored and how it is used and shared.
And there is no injustice done to any consumer when it comes to their payment and service.
They have the right to release, sell, or rent their information to any other website.
Moreover, they have the right to get their personal information deleted from the site, if they want to.
Now, if you think CCPA Compliant law applies to everyone or can be applied to all websites, then you are certainly wrong. If you possess the following conditions then you will have to comply with the law.
Assume if you trade, buy or receive confidential data of more than 500K+ devices, users, and so on.
If your Annual gross income is more than 24 million dollars.
Or if you get half of your annual income from trading users' data.
Also, there are severe punishments, for anyone who breaks the law. Such as if you deliberately break the law, you will be fined 75K dollars and if you break the law unwillingly, you will be fined 200 dollars. So practically speaking, the only option left is to abide by the rules.
So to sum it up, the law applies to the big companies that run for-profit and that store and dominate the personal data of the residents of California.
But certain firms are exempted from this law, such as public agencies, NGOs, small companies, and so on.
Now the question arises does your Google Analytics is CCPA Compliant?
The first thing to know is that Google plays the role of a service provider and it provides you with data that is stored.
Now, Google analytics is seen as a tool that provides your customer with a user ID and it stores personal information like age, gender, IP address, and other confidential information.
Now you would think that it is similar to CCPA and why is there even a need to use it.
You should remember that it is with the help of Google analytics that you have data because otherwise, you would not have any proper data. And to make your Google analytics CCPA compliant, you can make some alterations to make things work, that would not take much time.
Note – You need to get a Premium license for monsterInsights which will cost you only $99.50/ year for a Plus license. And it's worth buying especially for eCommerce websites and bloggers.
Now, we will need to learn how to make Google analytics CCPA compliant.
For compliance California consumer privacy act (CCPA) you need to make certain settings in your WordPress website.
Step 1: First and foremost, you need to install monsterInsights WordPress Plugin and enable its EU compliance add-on. If you are wondering what is monsterInsights then it is the best Google Analytics WordPress plugin that supports EU Compliance which is by far the most suited plugin for the requirement.
And EU compliance add-on helps you to make your Google analytics CCPA compliant, as with its help the tracking device can be switched off which will not record your personal information any further.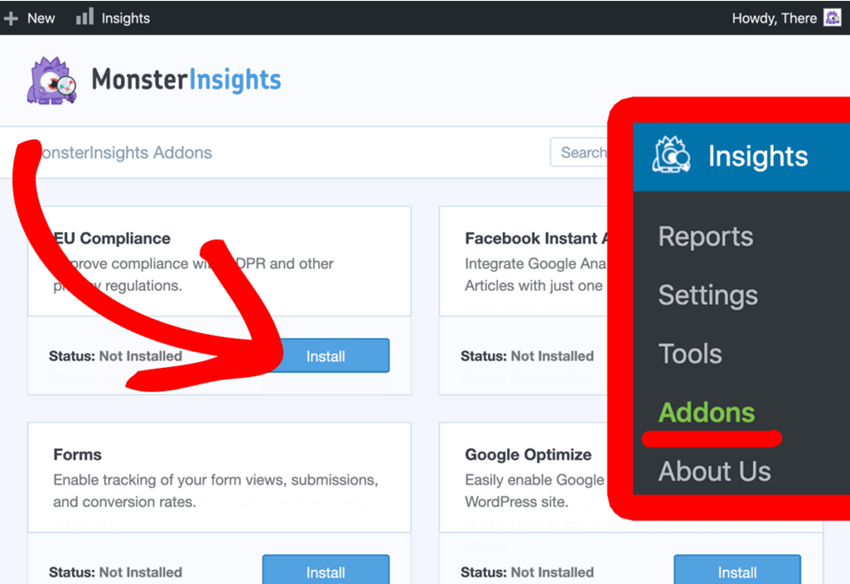 Step 2 – For enabling this add-on, you just need to hover over the Insights tab then click on add-ons, and then search for EU compliance. Click on install, Now And once it is activated go to the insights tab then click on Settings, and then on engagement. Just scroll down till you see EU compliance and there you can alter the settings and switch off the unwanted data collection in Google analytics to make it CCPA compliant.
Here are some other functions of the add-on :
This addon is fully Compatible with google analytics
You can easily enable or disable or switch off the tracking device as well as the IP address of the user on Google analytics.
It also provides you with the convenient amalgamation with cookie bots and Cooke notice WordPress plugin.
You can even deactivate interest reports and demographics for Google ads.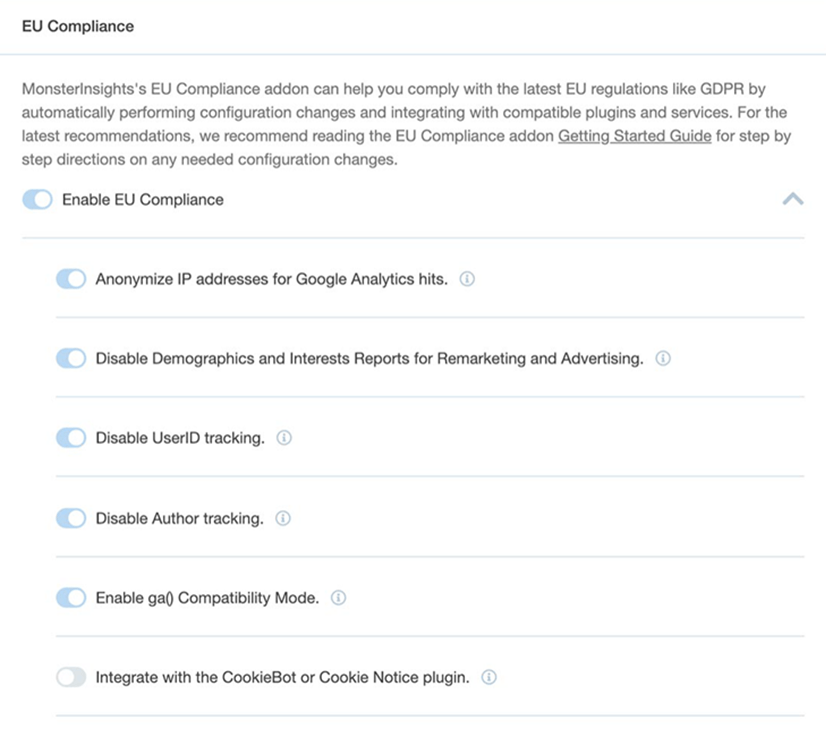 Step 3: You need to build an opt-out consent box to tell people about data collection and privacy policy.
You might notice that the opt-out option is also mentioned as one of the rights of the law that the citizens are powered with, that is, the user can share or trade their information with any other website. And therefore, you would know how important it is to include this step.
Now, to build this box in an easy method you need to use a plugin which is not only has a built-in option to set up the opt-out consent box but also combines conveniently with monsterInsights. And for that, you can try any Cookie notice plugins from our blog which match the requirement.
With the help of this plugin, you can easily scrutinize your site and build a cookie declaration link that you can place on your site. It also helps to create a document that prevents your information from getting sold, and you can easily get it in the form of a link to comply with CCPA.
Step 4: Lastly, you need to upgrade your Privacy policy.
This is the last yet significant step as it comes under the right to be informed, where the citizens of California have to right to know what information is being used, and how it is used.
In this step, you need to inform your users that your site uses Google analytics. And further, you need to give them details of what party of their information or data is being stored and you need to tell them why are you storing the data.
You need to provide the details of the cookies that are being used to record their user's data. Moreover, you need to provide the process through which the users can have a look at what part of their data is being recorded and if they want the personal data to be erased.
Conclusion
In a nutshell, if you are using Google analytics and want it to comply with CCPA, all you need to do is install monsterInsights and enable the EU compliance add-on. And there you just need to switch off the tracking device and then you are good to go.