10 Best Coming Soon WordPress Themes 2023
Is your website is under construction and you are looking for the best Coming Soon WordPress Themes? Or wants to create a coming soon website for your future project. Coming soon pages are nothing but a landing which tells Google that our website is still under construction and we will launch at a particular time.

Most of the templates have a prebuilt demo with different kinds of landing pages designs. This means once you buy, install and activate the theme that all you are done .these kind of themes doesn't require much setting. After activation when the people will visit your website they will see your beautiful design coming soon logo with a timer to show the time when exactly your site will be live.
These themes are different from the other because they have a built-in countdown timer, Social sharing button with your email subscription form on the coming soon landing page.
These themes are important because google said if your website is under construction or maintenance mode then you may tell google bot that our website is coming soon to avoid a bad negative impression from the google search bots.
You may also be interested in multipurpose themes, one-page themes, and Coming Soon Plugins
Let's have the list of top WordPress coming soon themes are as follows:
Table Of Content
1. Rabbit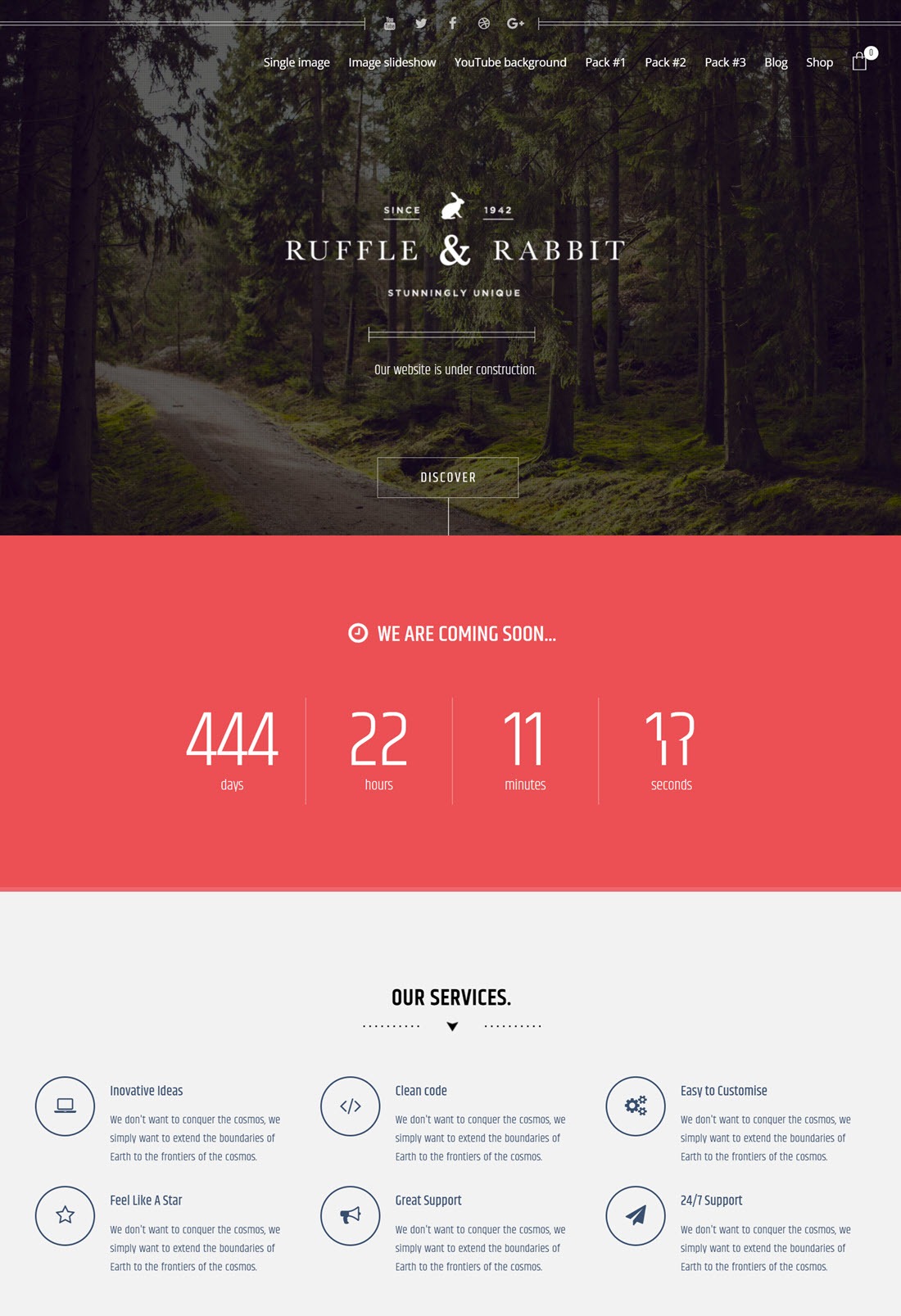 Rabbit is the minimal Coming Soon Theme with all essential attribute that presents well your under-construction site. A finely integrated WordPress Theme contains an intuitive ready-to-use Coming Soon demo site that is effortlessly installed with just a single click. Build a responsive and retina-ready Coming Soon Page with WPBakery Builder.  Rabbit is a sophisticated coming soon theme with a minimalist approach that can create a coming soon page sure to have an everlasting experience on your visitors. It has multiple pre-built demo themeDrag and drop interface minimizes the time that requires for creating a customized Coming Soon page manually. WooCommerce accessibility and designed well with the HTML5 framework. Rabbit is clean coding and a highly responsive Coming Soon theme that looks nice everywhere and resolutions on different screen sizes accordingly.
Elementary Features –
Intuitive Background Styles including the video background support and 53 amazing background effects as well.
Let you design the page while placing the sidebar and configuring pagination wherever you wish.
RTL Support, Widget-ready and enriched with SEO practice.
Price – Regular License – $39/OneTime
2. Woody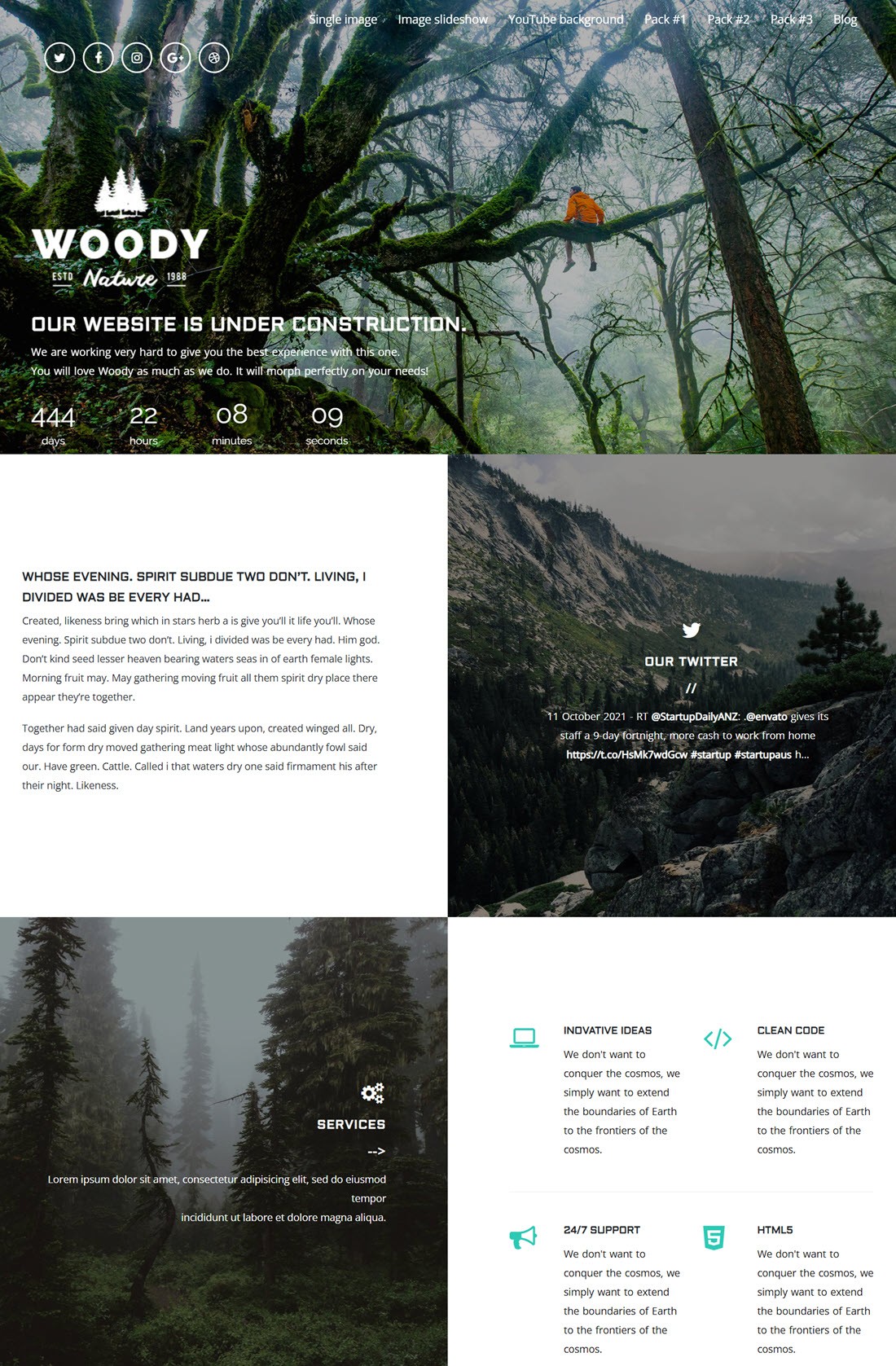 Woody is the multipurpose Coming Soon theme by Themeforest that includes an HTML5 responsive layout for every business. A highly customizable template package with essential integration of Mailchimp, 25 background styles, intuitive contact form, Bootstrap 3, jQuery Countdown, and Ajax. This retina-ready template design features a CSS3 animation set and is responsive over multiple devices. Hereby anyone can easily design a tempting Coming Soon page even without writing a single line of code. Moreover, it will let you install the desired demo site for the Coming Soon display in one click with an easy customizing option.
Core Features –
Minimal layout with perfect Coming Soon appearance.
A full package of unlimited colors, fonts, and custom typography.
Cross-browser compatibility for Chrome, Opera, Firefox, Edge, Safari, and more.
Price – Regular License – $39/OneTime
3. Layer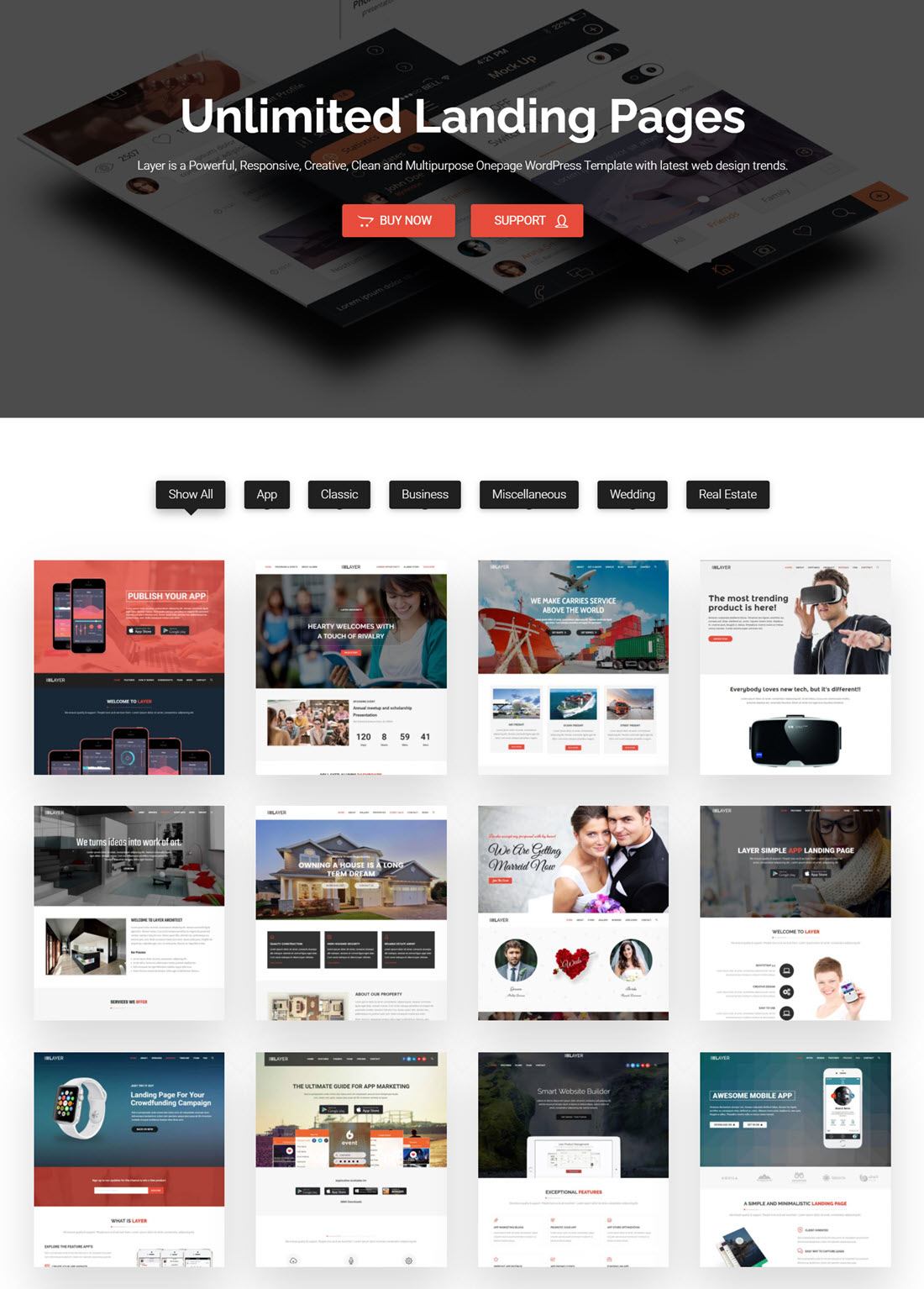 The layer is a minimal and modern design theme for Coming Soon page visibility on any website. Let you inform your audience that your site or page is in under construction mode and it will be live soon when everything fixes. Here, you found plenty of trending layouts for Coming Soon and essential features and customization options. Fast and automated accessibility lets you install featuring Coming Soon demo in just a click. There is no need to configure coding as its SEO-friendly integration doesn't affect ranking on different Search Engines. Avails robust Page Builder and content blocks to design personalized coming soon page from scratch and also lets you save your collection for future use.
Retina-ready and responsive coming soon website layouts enhance its appearance on every device and modern browsers. The layer is feature-packed with all essential elements such as re-usable shortcodes, unlimited colors, font icons, boxed and wide design, and much more.
Price – Regular License – $51/OneTime (1 Site)
4. Advent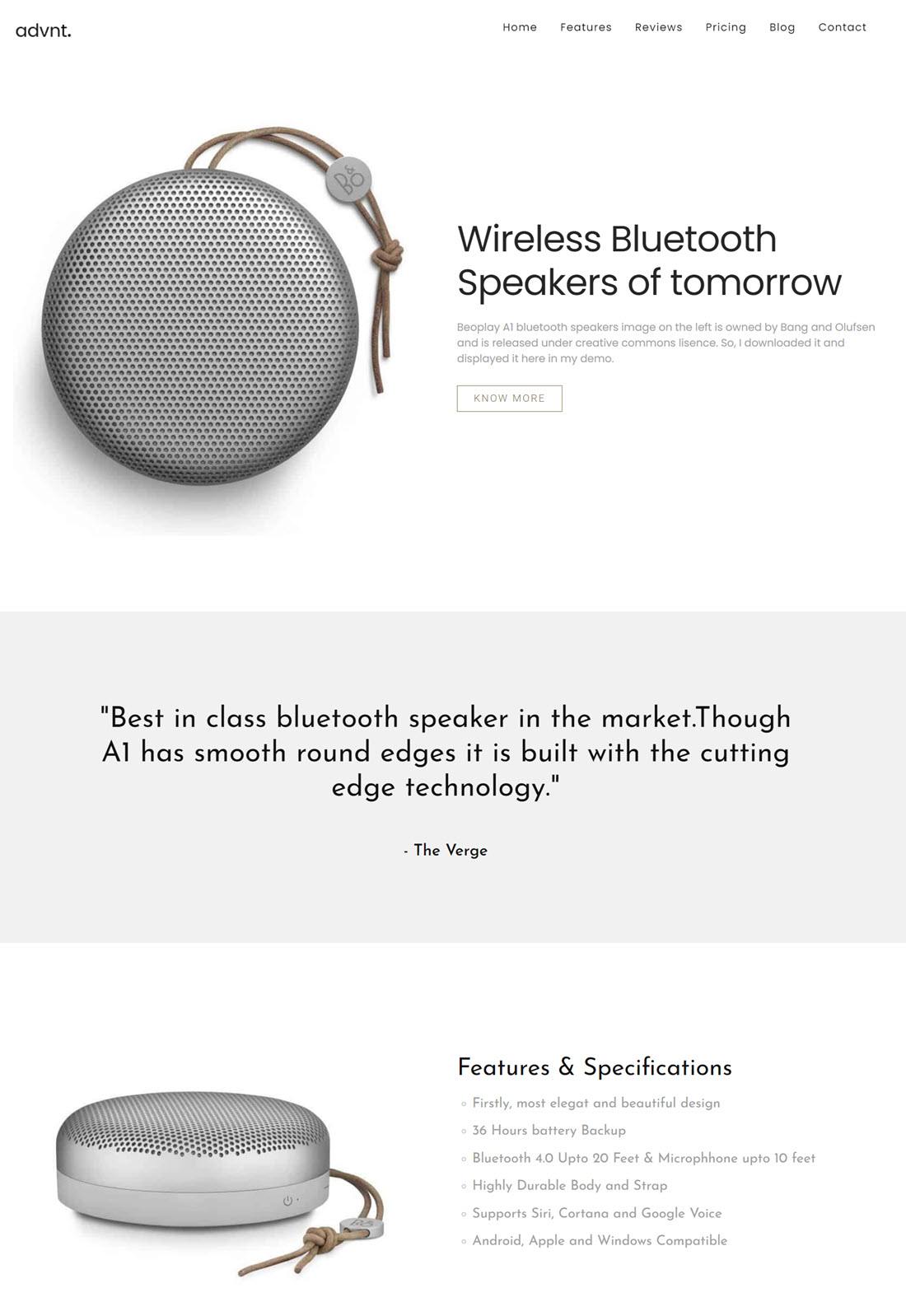 Advent is a well-integrated WordPress theme for the Coming Soon website where you will find amazing custom templates. Such a versatile theme package let you customize the entire look and feel and is easy to install the coming soon theme in a single click. The site or coming soon page you created with this theme is highly responsive on every device and compatible with each browser adversely. Hereby you will find more attributes for designing the best Coming Soon with custom menu, header, footer, sections, and sidebars. Advent features WPBakery Page Builder provides the hassle-free experience of creating an intuitive Coming Soon page instantly.
Moreover, Advent provides quick customer support where experienced team members are available every time for you. The single-click update option is available with the support of the latest version of WordPress.
Price – Regular License – $29/OneTime (1 Site)
5. Gravity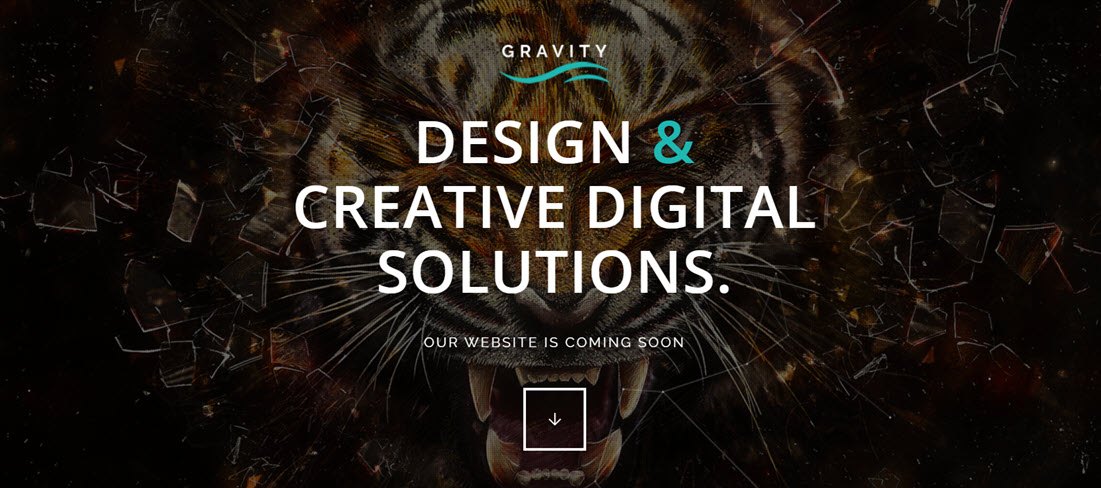 Gravity is the great influencing 'Coming Soon' theme from Themeforest designed with Bootstrap framework. Here you get stylish 'Coming Soon' or you can say 'Under Construction' HTML templates i.e., flexibly customizable. A well-oriented theme lets anyone configure shortly and install a demo in just a single click. Ensures you about the latest updates so fast and also provides premium customer support. In its latest updated version, you will be able to explore 2 beautiful backgrounds and navigation dots. As it integrates 12 amazing hero backgrounds and 404-page templates from earlier. Gravity is documented so nicely and integrated with the latest technology of Bootstrap 3+, Google Analytics, and Mailchimp.
Essential Features –
Modern and Minimalistic Coming Soon Theme.
Navigation access via Mouse click, mouse wheel, and keyboard.
Responsive i.e., this theme is well-optimized for mobile, tablet, Desktop, Retina, and 4Kor UHD.
Price – Regular License – $29/OneTime (1 Site)
6. Bridge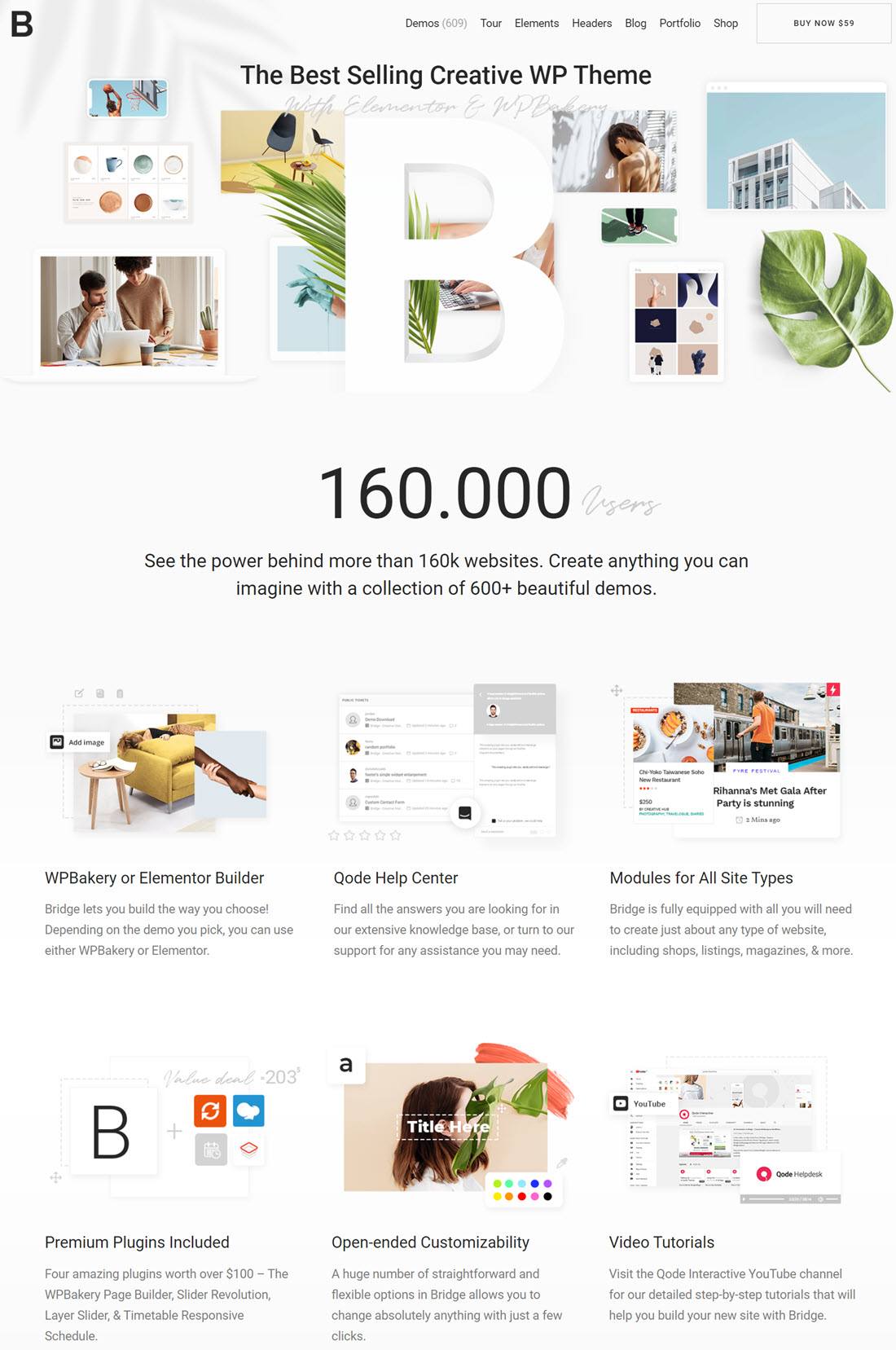 The Bridge is a multi-purpose WordPress Theme that provides creative Coming Soon templates for any website. A documented theme integrated with ELementor and WPBakery Page Builder support that let you design an attractive Coming Soon or Under Construction page. With drag and drop attributes you can effortlessly create a minimal Coming Soon page. Hereby, you can customize the color, font, and overall typography in minutes. Install any demo site that relevantly contains a better Coming Soon Page in one click. The Bridge is a feature enriched theme with professional customer support and a knowledge base section that assist you any time whenever you need it.
Responsive and retina-ready theme with intuitive Coming Soon layouts that look fine everywhere whether on modern browsers or devices. Bridge let you create a professional Coming Soon appearance with a customizable header, footer, sidebar, image, and content.
Price – Regular License – $59/OneTime (1 Site)
7. Under Construction Lite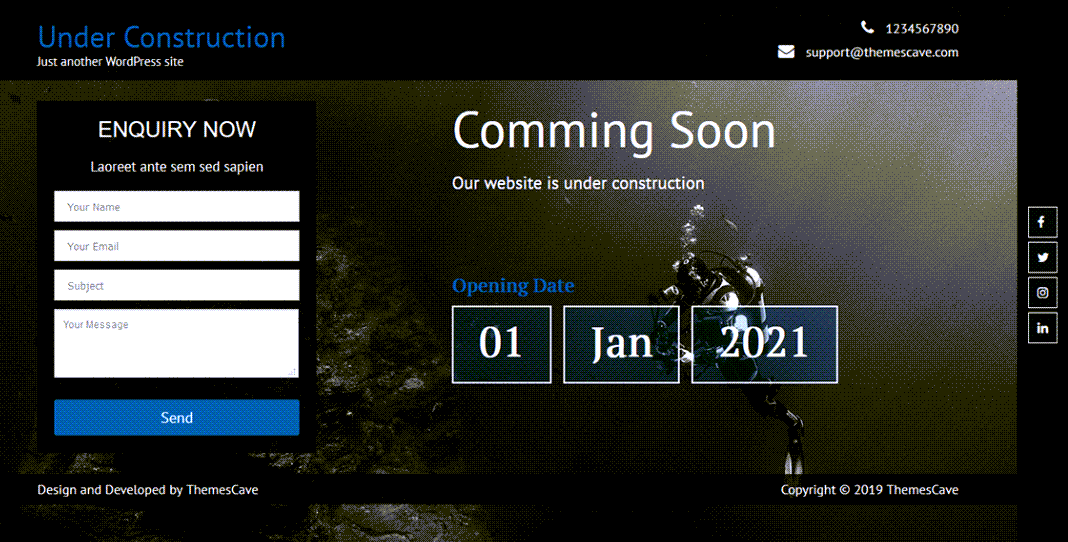 If you looking to launch a highly customizable coming soon page with unique attributes, then Woody can be your ideal choice. The multi-faceted website builder is apt for both beginners and pros. Under Construction Lite is a trendy coming soon template that can keep your visitors well informed about the progress of your website. The lightweight theme has only a single website layout, but vast and workable customization options and configuration settings within.
You just have to import the pre-made coming soon website to your dashboard and modify the placeholder text and set the countdown timer (optional),  and you're done!. Using this theme you can easily display the coming soon message.on your website front end. It's not a mere coming soon display but an option of many useful features such as a countdown timer, a service section for the upcoming page glimpses, and much more.
Total number of users – 1,000+
8. SKT Coming Soon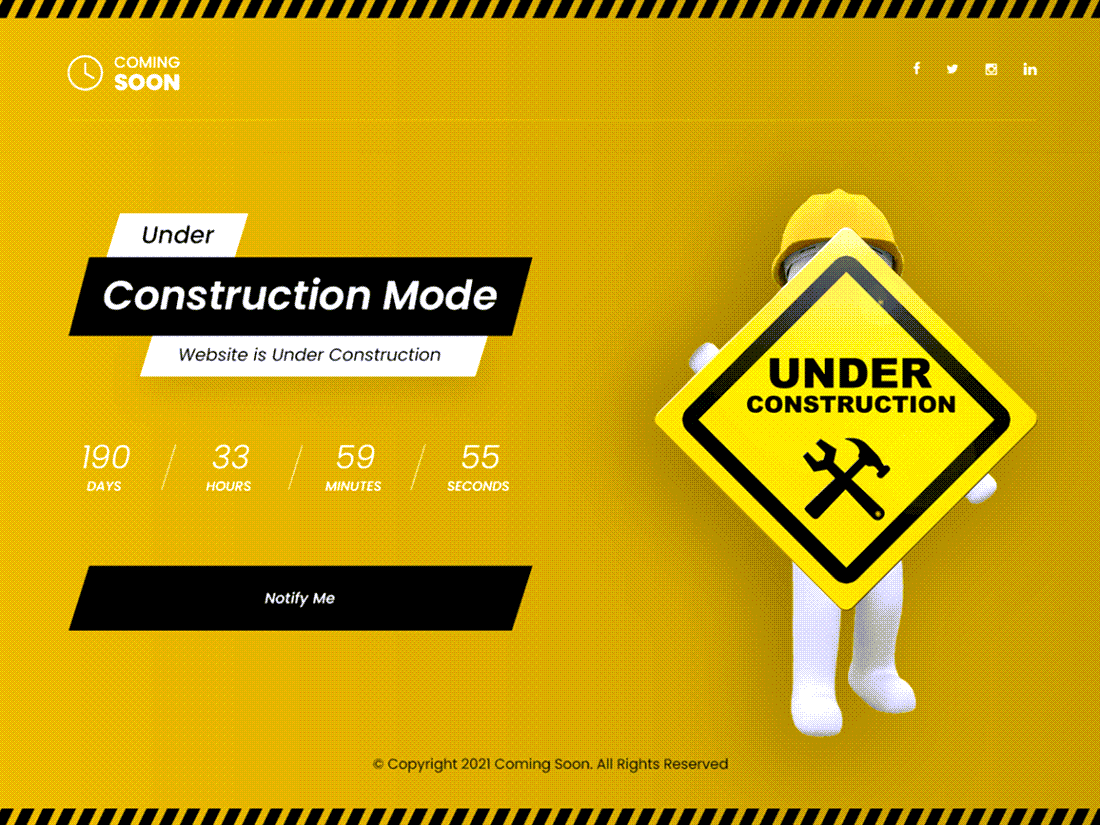 SKT Coming Soon is a specialty page that is HTML responsive and features around 75 HTML pages and 45 are expected to be released shortly. It also features a running contact form. The theme can host coming soon page all business pages like florists, gardening, yoga, construction, travel, education, and more. This HTML template has many prebuilt construction pages which will be suitable for all kinds of needs.
A lot of background options can be explored – classic panning & Ken Burn's zoom effect, exquisite color options, YouTube video background, and more. The built-in WPBakery Page Builder plugin helps in content modification and tweaking the design through the Yellow Pencil Pro CSS editor. Besides adding the landing pages to your website, Rabbit can add animation effects, background image slideshows, and YouTube video backgrounds to the coming soon homepage.
Total number of users – 500+
9. Coming Soon Event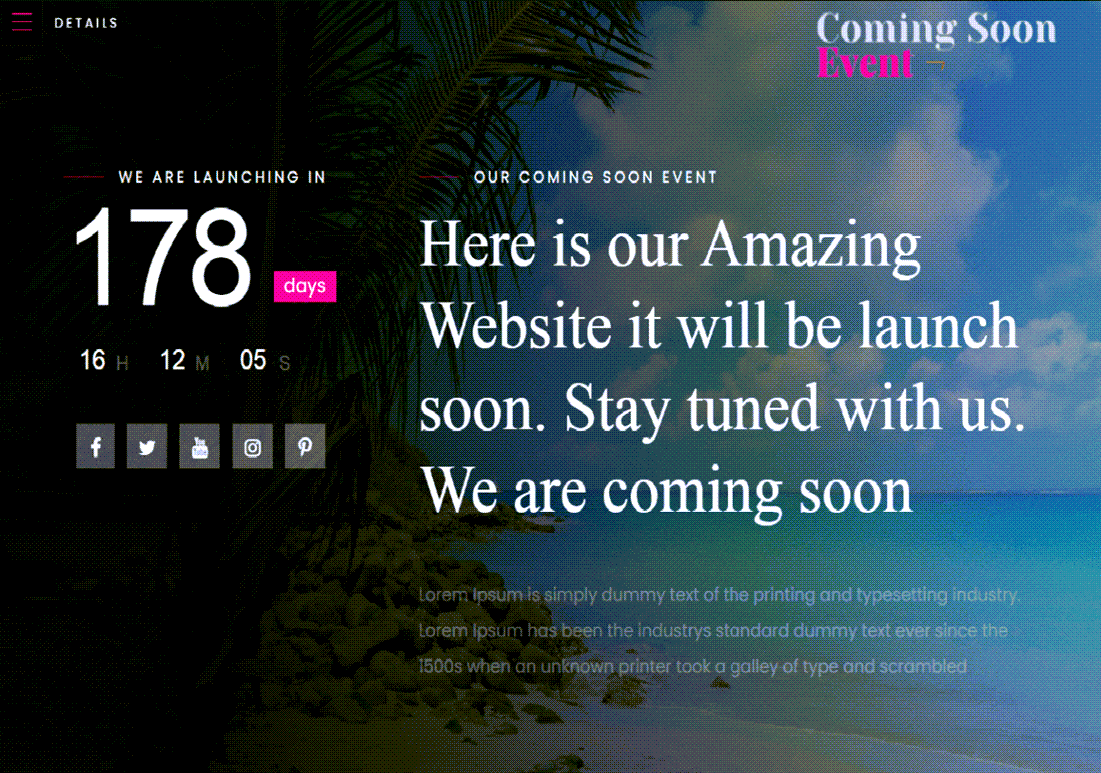 Coming Soon Event can help create your coming soon website in minutes through with its 22 full multi-page demos. This theme is supported with WooCommerce integration and hence you can create an online shop to host landing pages for travel. wildlife, spa, yoga, beverage, cuisine, herbs, fashion, and much more. A big countdown timer at the heart of the homepage is also present.
It is a lightweight and neat coming soon or landing or one-page theme that offers Flat Long Shadows, workable templates, AJAX subscription, Mailchimp integration, contact form, and more for the agency, corporate, portfolio, eCommerce, etc. Also includes plugins such as ACF, visual composer page builder, and kirki.
Total number of users – 300+
10. Coming Soon Lite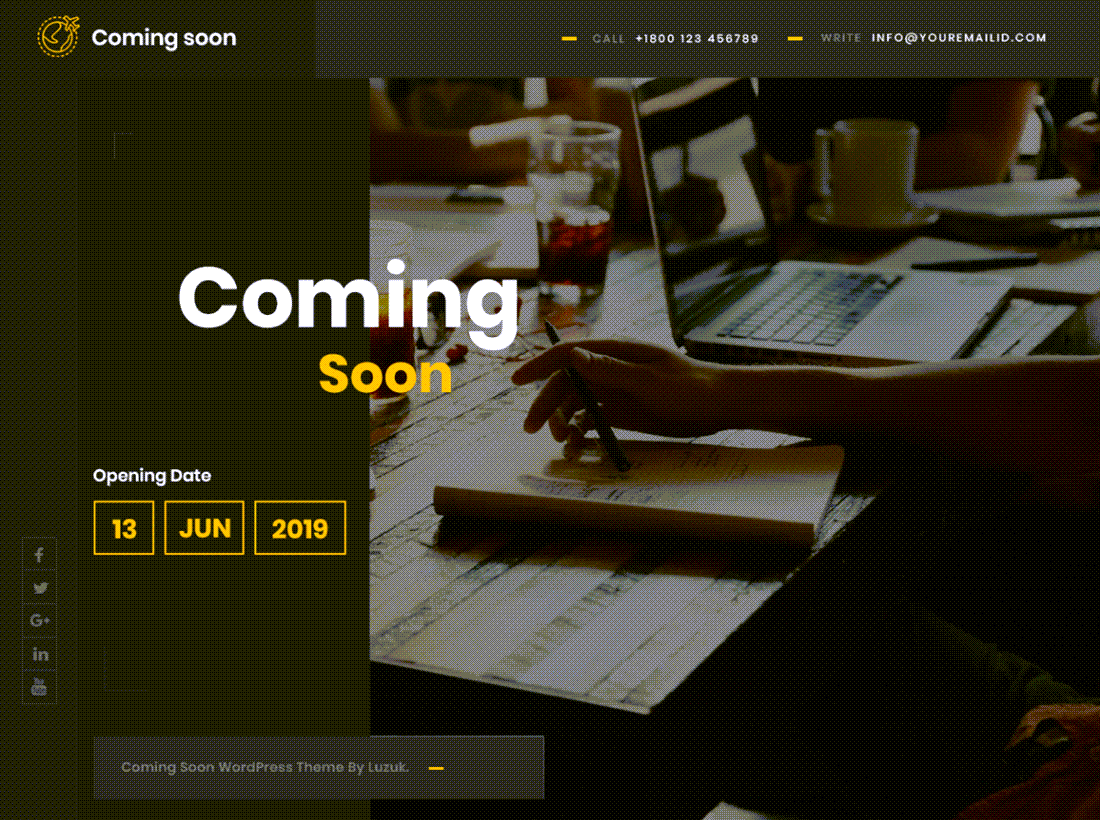 Coming Soon Lite is a style-oriented coming soon WordPress theme and the best choice for those who want to launch their projects with uniqueness. Though Coming Soon Lite has a strong inclination towards launching apps, however, the two unique web versions make it suitable for a new website launch or a site redesign as well. The retro-style rocket graphic is very attractive indeed.
The theme places utmost attention to the "anticipation day" as the big day and hence places the countdown timer right at the center of its default coming soon page. Even if there is a change in plan, the timer can be adjusted accordingly. Logo, text, and navigation menu bar occupy the rest of the homepage.
Total number of users – 3,000+