27 Best News And Magazine WordPress Themes 2019
Are you planning to create an online news or magazine Blog website ? And Trying to Find Best Premium Or Free News and Magazine WordPress Themes Which is completely Responsive on all devices .

There are many tech bloggers who are making millions of dollar just by writing news everyday . News is not only related to daily life . News will be from any category like tech, sports, fashion, gadgets, games , new startup, politics or anything which will useful for the readers . Some of the tech or news giants are Forbes, The New York Times , CNN , Engadget and Reuters . They are able to reach millions of people everyday using their website and  almost of them are using WordPress as their blogging platform .
Their earning is based on adsense or media.net, Sponsorship or advertisement . Initially you won't any advertisement or adsense approval so its better join media.net which a yahoo! Bing ad . Mostly these have beautiful design , Bundle of Colour pattern with perfectly placing adsense banners functionality  .
You may also be interested in Multipurpose theme , adsense Optimized theme and , Portfolio Themes
So lets have the list of top Blog, Magazine and newspaper WordPress themes are as follows .
1. Magazine

Magazine from Themify is one of the best WordPress Magazine Theme which gives you the power to build your dream website with utmost ease – all thanks to its versatile layouts such as those used by BBC, CNN and more. All news sites can fully utilize its 3-column style.
The key features of Magazine are social media integration button, HTML5 & CSS3 support, Lightbox gallery, support for child themes and breaking news flash. You can also integrate banner into the page with the help of Header widget.
The multiple sidebars are extremely flexible and can be adjusted as full-width, 2 sidebars or a single sidebar.
Pricing  – 59$ 
Magazine
Responz
2. NewspaperTimes

Newspaper Times is a top-notch intuitively engineered theme. It has a robust page builder that can create amazing layouts with limitless category blocks.
You can create simple to complex news categories such as NewsPost, Entertainment News, Parenting, Local News, Fashion & Style, Gadget News, Business News, Sensex. Web Journals, Style and many more. You can chose the one that suits your requirement and create amazing pages. Undoubtedly, you will impress the visitors.
Pricing  – 59$ 
Newspapertimes 2017
Magazine3 Bundle
3. News Pro Theme

News Pro powered by Genesis Framework is a release from StudioPress that can enhance your online publishing through its glossy, easily navigable and catchy designs. Its stylish frames are apt for representing audios, videos and articles.
Being Gutenberg Optimized you get the power to customize the layout, color and style of the landing pages. In short News Pro is the powerhouse for publishers and can make you stand out of the crowd.
An ideal choice for a variety of front lines such as Travel News, SEO Tips, Fashion, Tech Savvy, Web Journals etc.
Pricing  – 99.95$ 
Genesis News
Genesis Magazine
4. Tribune 4.0

Tribune 4.0 is an impressive news theme from WPZOOM. With the theme you can showcase your featured posts on the top and highlighted.
The two skins viz. Newspaper and Magazine are suitable for sites that have bulk news and articles. Other features of the theme are – breaking new ticker to create the news headlines in minutes, a responsive layout to make your site look beautiful on any screen size and an advanced Theme Options Panel.
Pricing  – 69$ 
Tribune 4.0
Alpha
5. 

Domino Magazine carries the potential to sculpt bold and engaging sites for both small and big online publishing houses. Though Domino Magazine has a minimalistic approach but it has plenty of features to suit news and magazine pages without cluttering the view.
The theme offers a fluid and responsive layout to enhance the definition across all devices.
Pricing  – 69$ 
Domino
Prime Newsremium
6. Noozbeat

Noozbeat is a popular and user-friendly theme for all magazine and news websites. You can highlight the contents in the best way possible through its different layout options. The 30 color options can help you impart a versatile look to every nook and corner of your site to create TechNews, NewsBlog, GadgetNews, LocalNews and more.
The 80 customizer settings and typography options enable you to design your site that suits your brand keeping in mind user engagement and social pulse.
Pricing  – 49$ 
Noozbeat
Doberman
7. NewsPaper

A stunner from MyThemeShop, NewsPaper provides an outstanding typography. The theme blends a photo-centric confluence with ample amount of white space just like the mega menu navigation. The front-end interface is highly functional and facilitates the process of filtering the posts.
It can be a suitable choice for blogs that caters to numerous categories from food & living, fashion & style, politics etc. with SEO and speed optimization functionalities.
AdSense Integration gives you the opportunity to tap the monetization aspects.
Pricing  – 45$ 
Newspaper
Newstimes
8. Newspaper


Newspaper is the best seller among the newspaper WordPress theme . The latest version Newspaper 9 features the tagDiv composer, tagDiv Cloud Library with more than 420 pre-made templates, 404pages, categories and authors. The theme also accompanies other features such as demos, translation integration, intuitive ads system and page builder – TD composer with over 100 custom elements.
In terms of design and flexibility Newspaper has no match because of its far-fetched Big Grid combinations with Big Grid shortcodes, header & footer layouts and 5 unique types of Flex Block elements. This theme is completely responsive and SEO optimized
Total number of user  – 73,000+ 
Pricing  – 59$ 
Newspaper
Hosting
9. Sahifa

Sahifa from ThemeForest is a robust and user-friendly newspaper WordPress theme that has all the modern day attributes for hosting websites for newspaper, news, magazine, desktop publishing or content marketing.
The fully responsive theme supports all mobile devices for swipeable content. Sahifa integrates with the AMP for a fast user-experience. In terms of SEO optimization, Sahifa is no less, Articles and Reviews Scheme facilitates snippet views. It also integrates the Yoast plugin to get more visitors from Google and Bing.
Total number of user  – 26,400+ 
Pricing  – 59$ 
Sahifa
Jannah
10. 15Zine

15Zine is an innovative WordPress magazine theme which has flaunts a built-in review system. Hence, can be used as an intuitive review system with full support to  bbPress and WooCommerce. With its minimal coding, it gives enough scope of utilization even for the ones with little to no coding expertise.
The mega menu and drag-and-drop functionalities can be used to create amazing pages and organize them as well. With 15Zine you also get the advertisement feature for better sponsorship.
Total number of user  – 6,800+ 
Pricing  – 59$ 
15Zine
Zeen
11. Herald

With Herald you can manage all the elements of a news and magazine portal right from the visual to the content.
The impressive demos for technology, fashion, sports, gadgets, automobiles are worth mentioning. Each author can display their profile and the category they write for.
Herald also integrates well with WooCommerce and integrates a cart system at the header. The scope for expansion is always there with the social sharing icons of Facebook,Twitter etc.
Total number of user  – 2,700+ 
Pricing  – 69$ 
Herald
Voice Clean
12. MagPlus

The prime requirement of a news and magazine website is its seamless navigation from one article to another; MagPlus fulfills this requirement with ease. The magplus WordPress news theme is fast, responsive and flexible. It can be translated to other languages and allow you to monetize your site with the Adsense integration.
MagPlus has a fast loading time and can be easily viewed on mobiles. It also features many layouts and 30 demo templates to cater to a versatile range of subjects such as Market Trends, Health, Parenting, Travel, Food, Tech, Blog, Viral, Sports, Music and many more.
Total number of user  – 2,200+ 
Pricing  – 59$ 
MagPlus 
13. JNews

JNews is a ThemeForest presentation that flaunts its more than 140 pre-designed WordPress news template templates that fits numerous categories such as Viral, Cookbook, Fashion, Decor, Lifestyle, Beauty, Science, Gaming, Novel and many more.
Visitor's engagement is further enhanced through email subscription, social follow up button and push notification. Besides you also get social sharing, comment and built-in like buttons.
Total number of user  – 3,200+ 
Pricing  – 59$ 
JNews 
14. BoomBox

BoomBox is a Viral Magazine theme with the focused approach of revenue generation and media centric. The theme can help you create "viral news" easily and quickly with the viral content builder integration.
The powerful WordPress customizer can help you tailor the layouts and viral elements as per your requirement. You can create polls, quizzes, social sharing and ranking system for better client engagement.
Total number of user  – 4,250+ 
Pricing  – 59$ 
BoomBox
Bimber 
15.  PenNews

PenNews is a modern and spontaneous WordPress news theme and an ideal choice for news and magazine website hosting. You can build a fresh site in no time with the wonderful theme that combines quite a number of demo layouts for various categories such as Personal Blog, Food, Travel & Fashion, Business & Finance,  Craft DIY, Apps & Landing pages, Restaurants & Cafe and more
The extensive SEO integration of the theme facilitates a healthy social reach and search hits. PenNews brings the content to the users in a blazing fast manner with the Google AMP and Facebook Instant Articles functionalities.
Total number of user  – 1,800+ 
Pricing  – 59$ 
PenNews
16. Multinews

Multinews is a theme built for news, magazines and blogs. The key features include social media widget, mega menus, flipping magazine, author's profile section, and integration of plugins such as bbPress, buddypress, WooCommerce, geodirectory etc. It is retina-ready and has a responsive layout.
The beautiful layouts can help you create pages related to any category such as Weather, Online Shopping, Travel, Electronics etc. Yu can also accommodate multiple layouts in a single page.
Total number of user  – 3,300+ 
Pricing  – 59$ 
Multinews
17. 24.Storycle

24.Storycle is a comprehensive news and blog theme powered by Gutenberg, WordPress 5 and Elementor. You can build dozens of websites related to various topics with its 10 single post layouts such as National Issues, International news, Sports, Tourism, Blogs, Jewelry etc.
The JetBlog layout functionality helps you showcase the video playlist in both vertical and horizontal manner. The videos are crisp and stylish.
24.Storycle also features a breaking News Ticker.
Pricing  – 75$ 
24.Storycle
KingNews
18. 4News

4News from TemplateMonster is an impressive theme for newspapers and magazines. The interface is user-centric and does not require any coding expertise. The WP Live customizer helps you make changes to the website without switching on the maintenance mode and you can see those changes before they go live.
The pages are versatile and can beautifully feature Culture, Politics, World Panorama, Blogs and many more.
Pricing  – 75$ 
4News
BlazingNews 
19. HashNews

HashNews is a highly responsive theme ideal for magazine, newspaper, news, review and lifestyle. This theme offers 5 unique category layouts along with more than 3 homepages that adobes many pages. The pages can be easily customized as per the category and topic of your requirement.
Google web fonts can impressively enhance Article typography. All the client can avail the twitter feeds, top news, featured news and popular news anytime.
Pricing  – 98$ 
HashNews
Hosting
Best Free News And Magazine WordPress Themes
20. ColorMag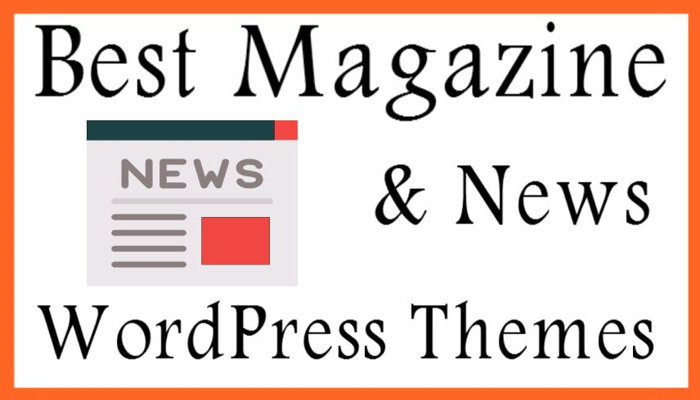 Colormag is one best Free WordPress news Theme which is completely responsive on all devices . This theme was developed by ThemeGrill . The  theme has Seo optimized coding which help you alot to rank your website on the top page of google .
Total number of user  – 100,000+ 
Free ColorMag
21. FlyMag PRO

FlyMag PRO is an apt creation for Creative Agencies. The responsive magazine theme offers you unlimited possibilities to create versatile websites with the unlimited color pallet, options panel to customize logo, color, settings and social links; cross-browser compatibility and the built-in plugins.
FlyMag PRO can also be used for blogs and can display the content in the best possible way with its content display widgets.
Total number of user  – 11,600+ 
Pricing  – 69$ 
FlyMag
Free
FlyMag
Premium
22. MH Magazine Lite

A comprehensive solution for online editorial projects such as magazines, news websites and blog sites. You can style your magazine website for fashion, travel, jewelry and other niches as well.
The key features of the theme are custom widgets, versatile color-picker, modern layout options and user-friendly theme options. The theme is SEO optimized.
Total number of user  – 40,000+ 
Free MH Magazine Lite
23. Maggie Lite

Maggie Lite  is a free WordPress magazine theme which is graceful, multi-purpose theme that has lots of widgets and widget areas. This theme makes an ideal choice for news, magazine and entertainment websites helps you customize your website in the easiest way possible.
Total number of user  – 600+ 
Maggie Lite
24. Newsmag

Newsmag is an ingenious tool kit that fits into the requirements of magazine and news websites. The theme blends both basic and advanced features such as an infinite customizable slider, content carousels powered by CSS3 technology and Ajax powered filtering capabilities. A highly professional theme with multiple headers and footers and navigational menus.
Total number of user  – 20,000+ 
Newsmag
Lite
Newsmag
Premium
25. News Portal

News Portal is a complete solution for all magazine and news projects. The theme offers a rich color style and full width template. It also provides a plenty of font options to work with.
The pixel perfect theme has a lightning fast load time which is an amazing aspect of news and magazine online website.
Total number of user  – 7,000+ 
News Portal Lite 
News Portal Pro
26. Elegant Magazine

Another theme with a powerful front-end and unique combination of ample white space, brilliant typography and lots of images. Elegant Theme features many custom layouts and Font Awesome icons.
It makes an impressive choice for contemporary fashion magazine, news journals, travel,  blogging & lifestyle.
Total number of user  – 2,000+ 
Free
27. Multipurpose Magazine

Multipurpose Magazine is a dynamic and organized theme made to style online newspapers, magazines, editors, publishing units, journalists, digital news media, bloggers and many more.
It offers banners and sliders to create vivacious websites for food, lifestyle, travel, photography etc.
Total number of user  – 500+