13 Best WordPress Coupon Themes 2023 
Are you looking for Best WordPress Coupon Themes To Make Money From Affiliates? Yes, you can make 100's $ just from working from home without any technical's skills. Trust me, every day, 1000's coupons website makes billions of dollars just by providing coupons. Instead of using coupon themes, you can also use a coupon plugin if you already have a website.

You might be thinking about how these coupons websites earn money? To understand this scenario, we should know the meaning of promotion. Most companies who sell products find it difficult to get traffic and sale. Instead of hiring a blogger who writes about their product, they hire an affiliate company. And now those affiliate companies have 1000's bloggers who will write their product. Now, these bloggers will get some percentage of the sale value. Now you can create a coupon website and help people all around the globe save money. Instead of that sale, they will give you a commission. So double saving first, you will get blessing then earning too.
Now you can set up different kinds of coupons websites. You can create a deals website or Monetize Your Coupon Sites like LivingSocial and Groupon. Or you can create a complete coupon website like RetailMeNot. Most people make so much money from amazon affiliates or ShareASale
You can select these WordPress Coupon Themes based on their printable coupons, mobile responsive, tracking option, designs coupon functionality by import and export tool. So that Products data can easily be imported to your website in one click. Do these plugins support a good rating option?
You may be interested in affiliate link cloaking and the best coupon plugins.
So let's have the list of the top 13 WordPress Coupon Themes so that you can easily make money from affiliate marketing.
Table Of Content
1. PremiumPress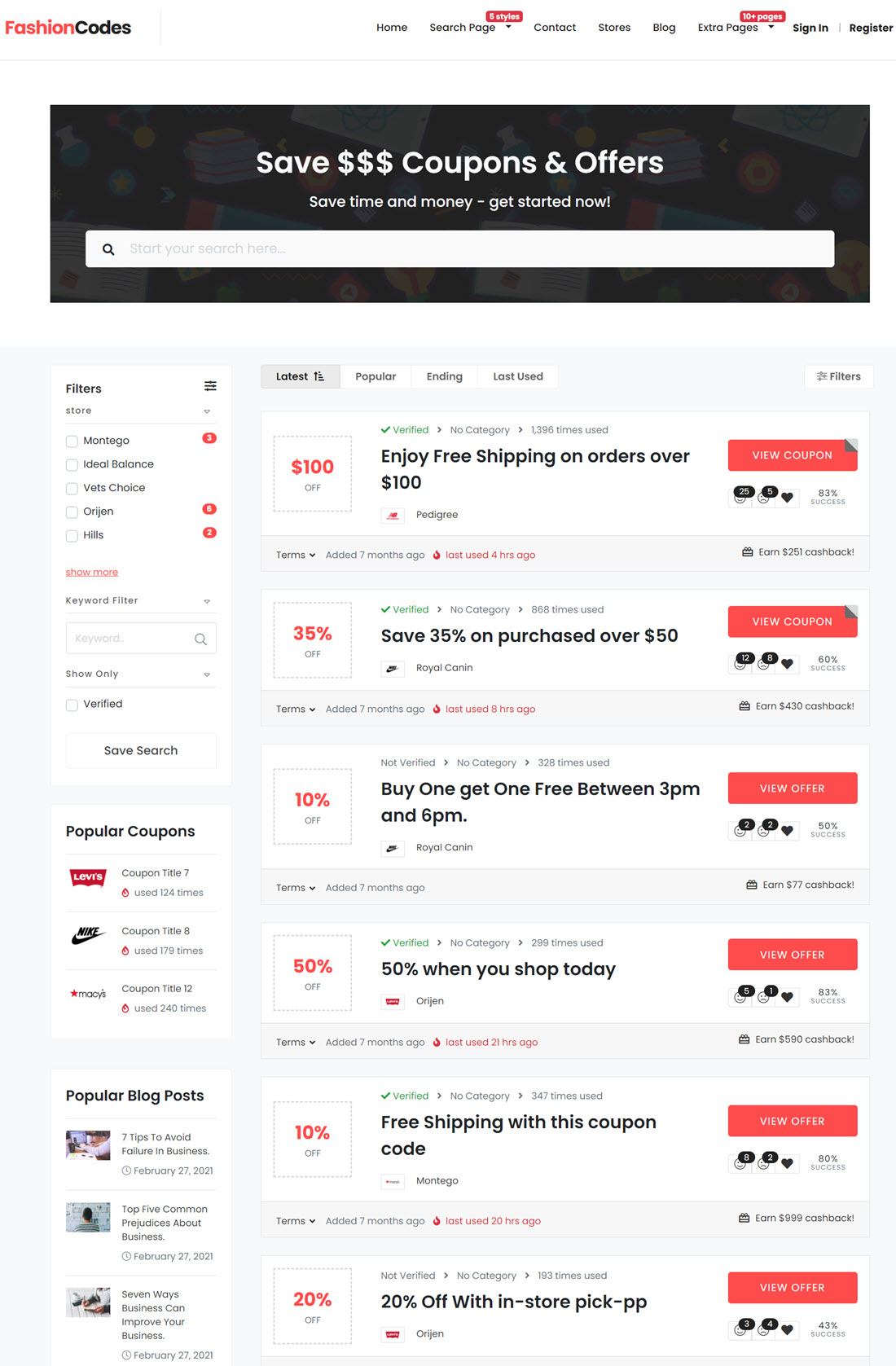 The coupon is a theme that can transform WP into deals, discounts, and coupons websites. Its features like built-in store pages, click-to-copy, and link cloaking clearly state that it has been designed for hobbyists and those who want to change their site to coupon websites for business purposes. If you want to share the occasional deals with the customers or promote offers and coupons using affiliate links, then Coupon Theme comes in handy and helps you generate revenue. Coupon also gives an option of six other homepage layouts.
Price – User License – $89/OneTime,  Extended License – $269/OneTime
2. Clipper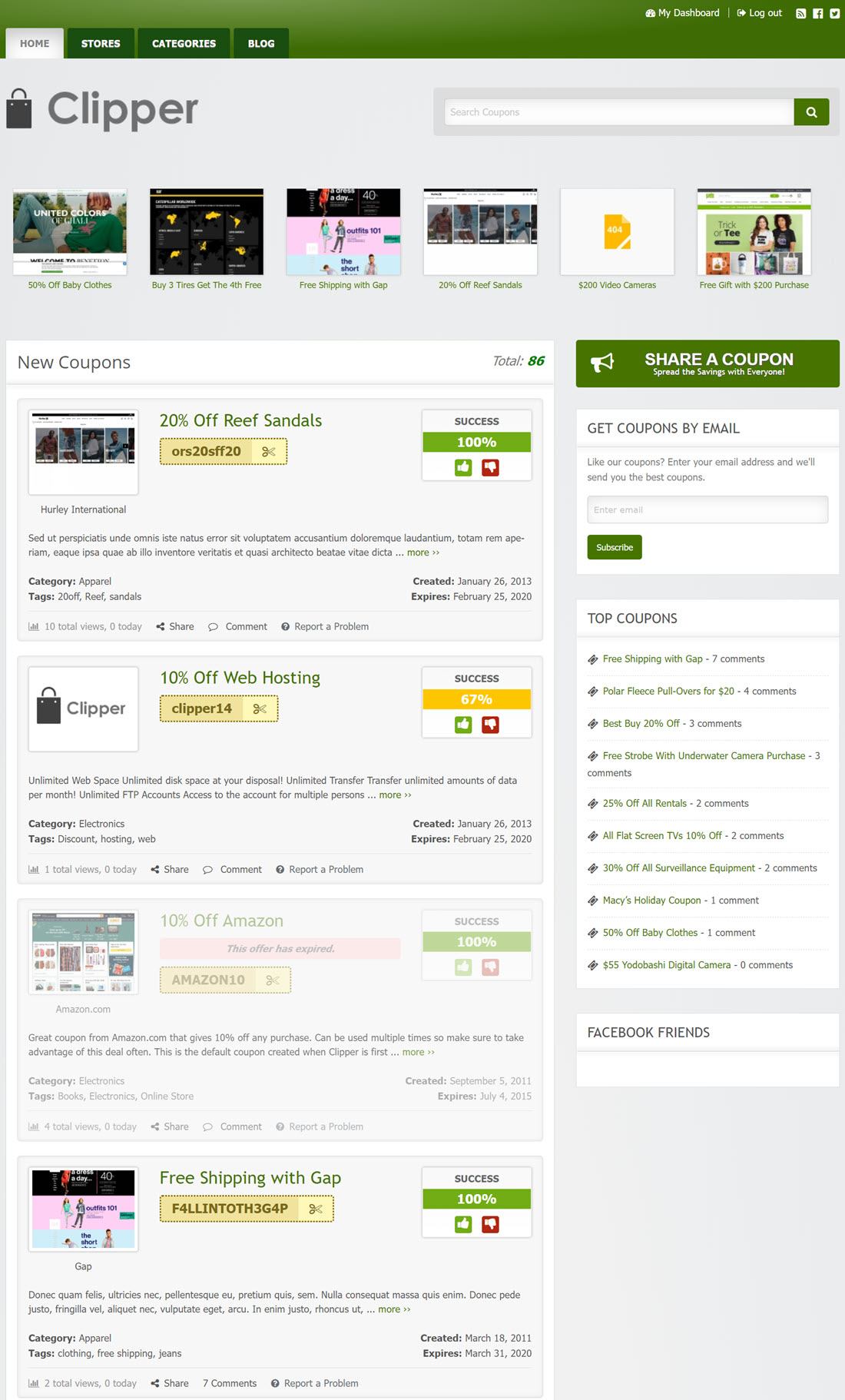 Clipper is a coupon theme best suited for allied marketers who want to generate revenue from their websites. The in-built affiliate link cloaking and tracking give you statistics on page views and CTR of your affiliate links without installing any other plugin. Besides, its unique system auto registers and links coupons without any hassle. The theme also gives the users an interface to report their problems with a few clicks. The designing part offers five different color schemes and custom email templates.
Price – Standard – $69/OneTime (Unlimited),  Club – $199/OneTime (Unlimited All Theme)
3. Flatter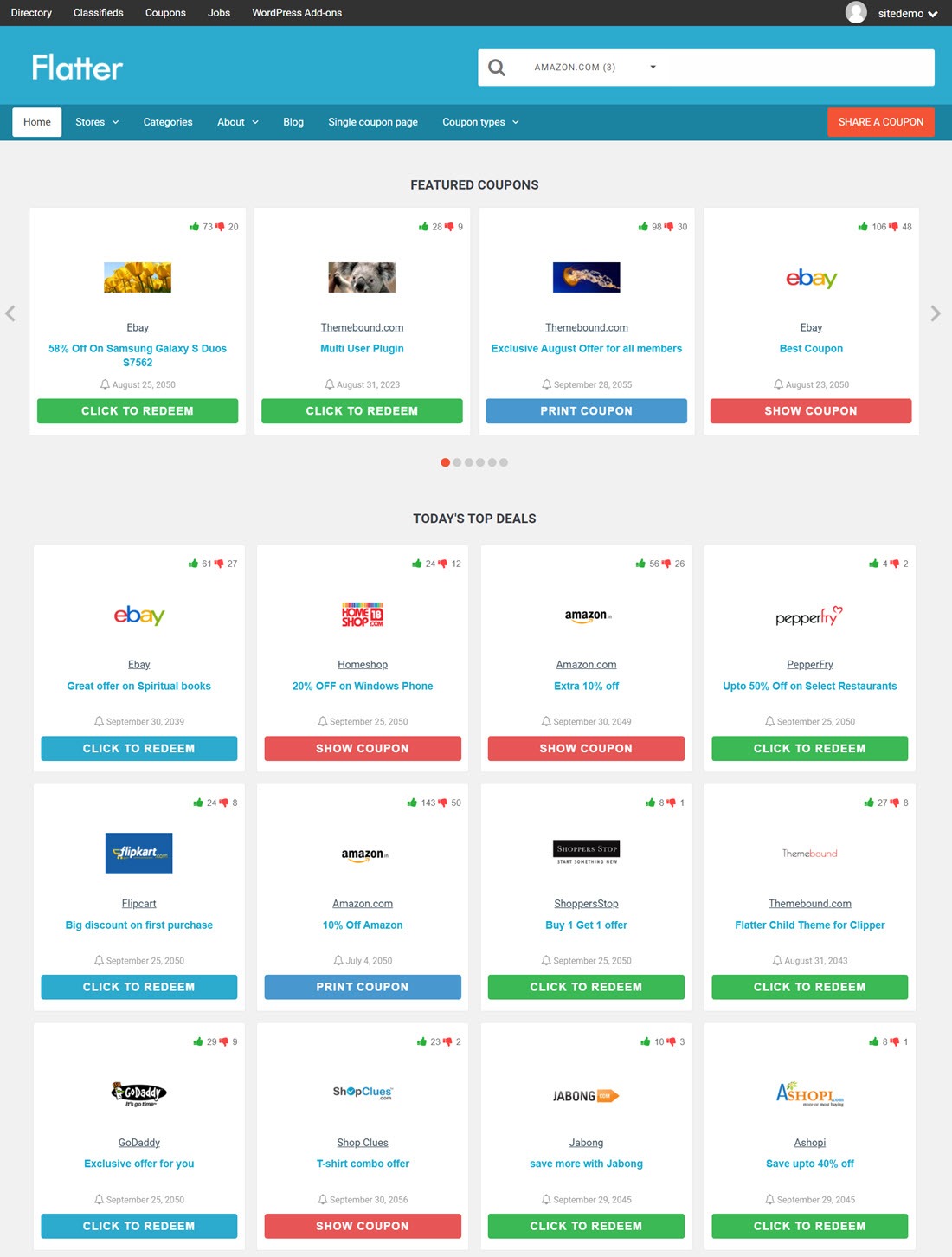 Flatter is a WP Coupon theme that is a child theme of Clipper. The theme uses a flat interface user interface design interface which companies like Google and Apple use. It comes with a mobile-friendly and responsive design. The improved loading time of the theme imparts a positive experience to the users. Features like flat UI11 color schemes multiple settings to customize the entire look of the website are pretty worthy. It uses a navigation system to direct the users through your website.
Price – Standard – $39/OneTime
4. Koupon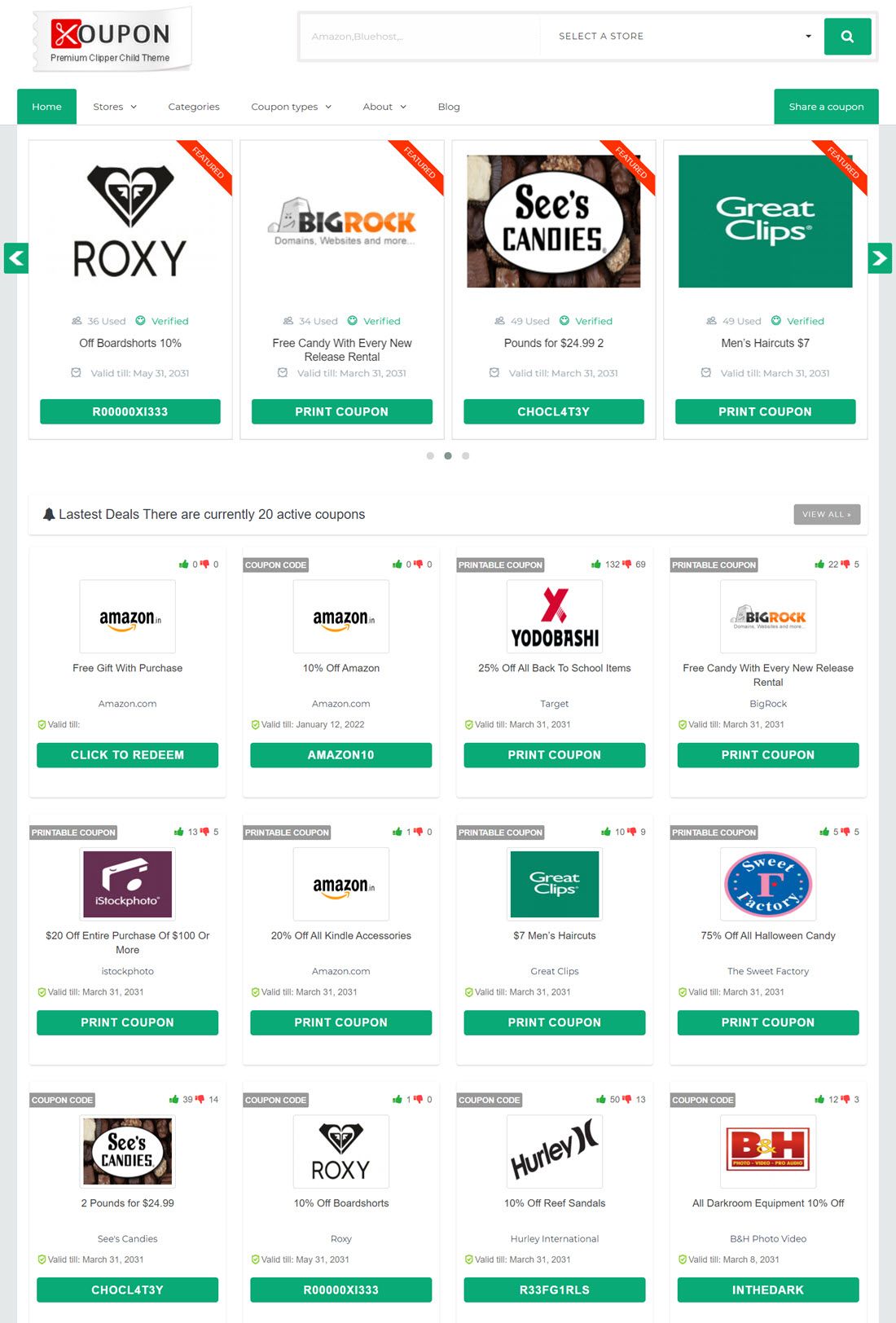 Kupon is yet another WP coupon theme that is very suitable for daily deals marketplace and coupons websites, Highest quality and time-proven industry solutions have been used in the theme designing. It can be widely used for professional purposes because what matters here are the qualities and not the price. The theme is quality, flexibility, stability, and long life. It also features a group buying shop with manual refunds for failed transactions.
Price – Standard – $49/OneTime (Unlimited)
5. Deals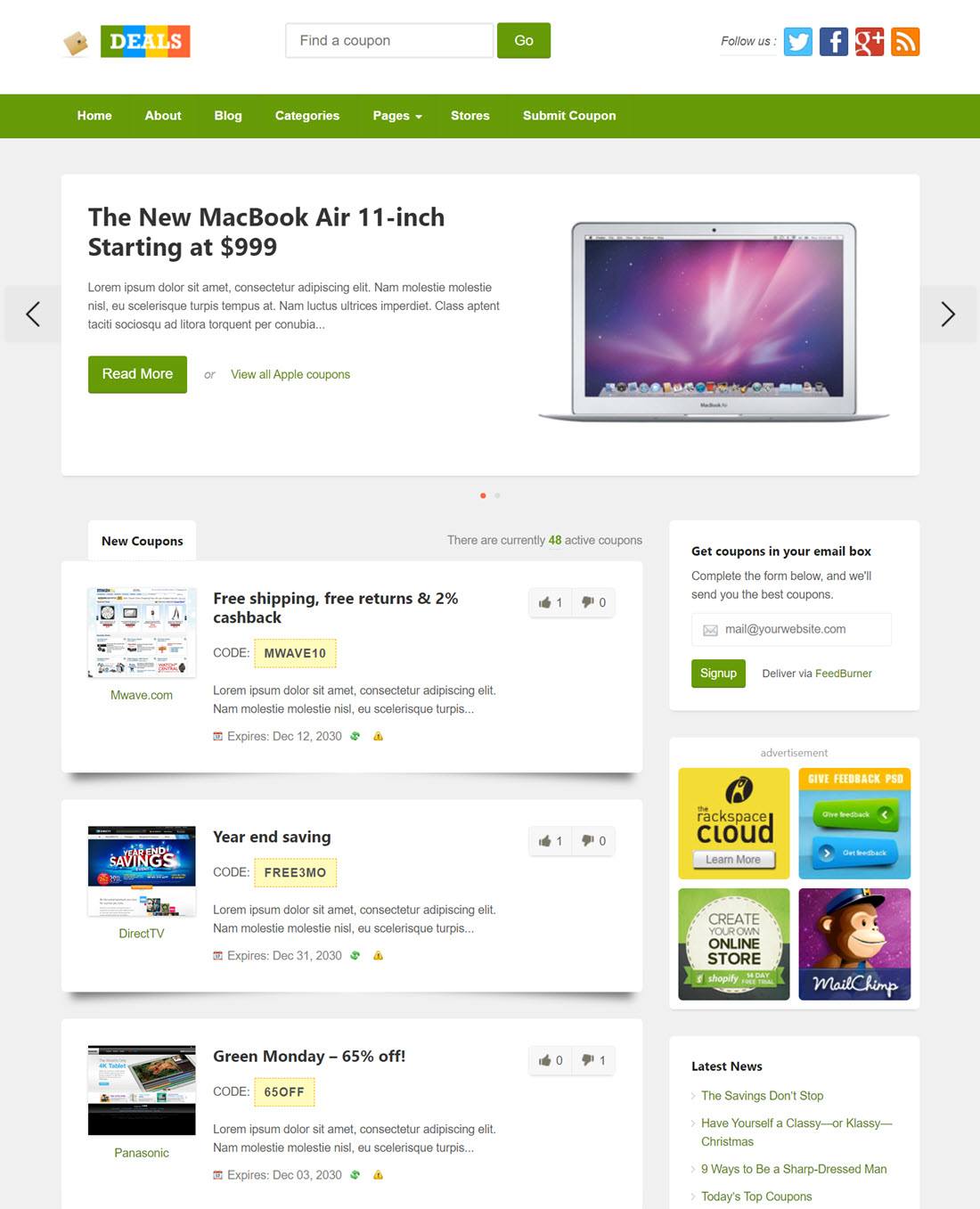 Deals is a WP theme from Theme Junkie that can easily share coupons codes and discounts. You can create a professional discount deals resource with its sophisticated coupon management system. The theme has custom widgets that make social sharing very easy. Its advanced control panel and ad management tool can achieve an intuitive user interface. However, the theme cannot upload coupons in a CSV.
Price – 1 Year – $24/Annually (Unlimited Site),  Lifetime Year – $49/OneTime (Unlimited Site)
6. REHub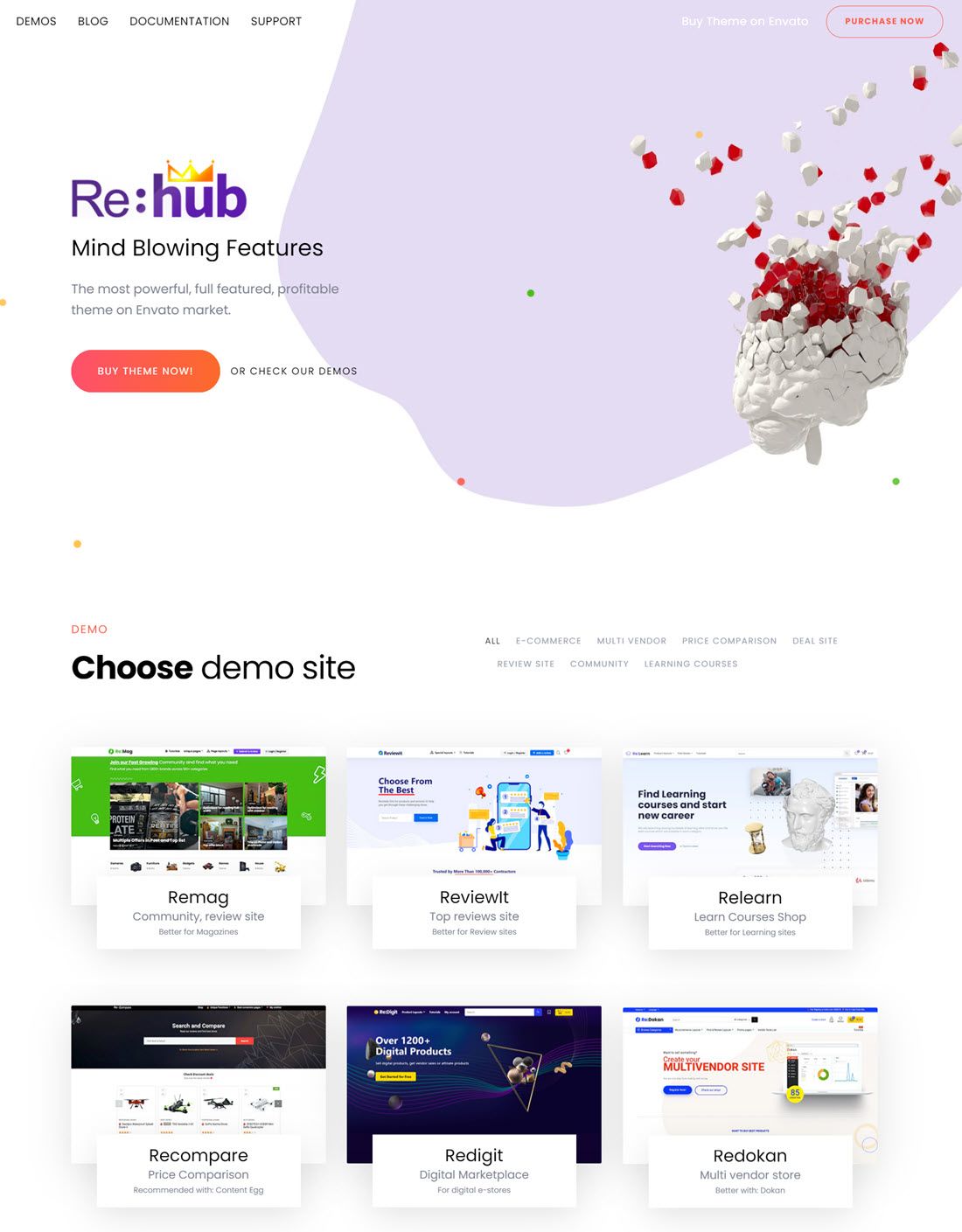 REHUb is a contemporary, hybrid multi-purpose WordPress theme that combines many good features. An interface where reviews and comparisons can be created, besides a deals and coupons site.
You can design beautiful layouts using 35 different blocks infused in the powerful Layout builder of REHub. The theme further eases selling the products and services as it is fully compatible with popular e-commerce sites like WooCommerce, Ecwid store, Easy digital downloads, etc. The home page or the whole site can be fully customized using the theme.
Some valuable features are affiliate link builder, catalogs, enhanced ads options, etc.
Price – Regular License – $59/OneTime (1 Site)
7. Froday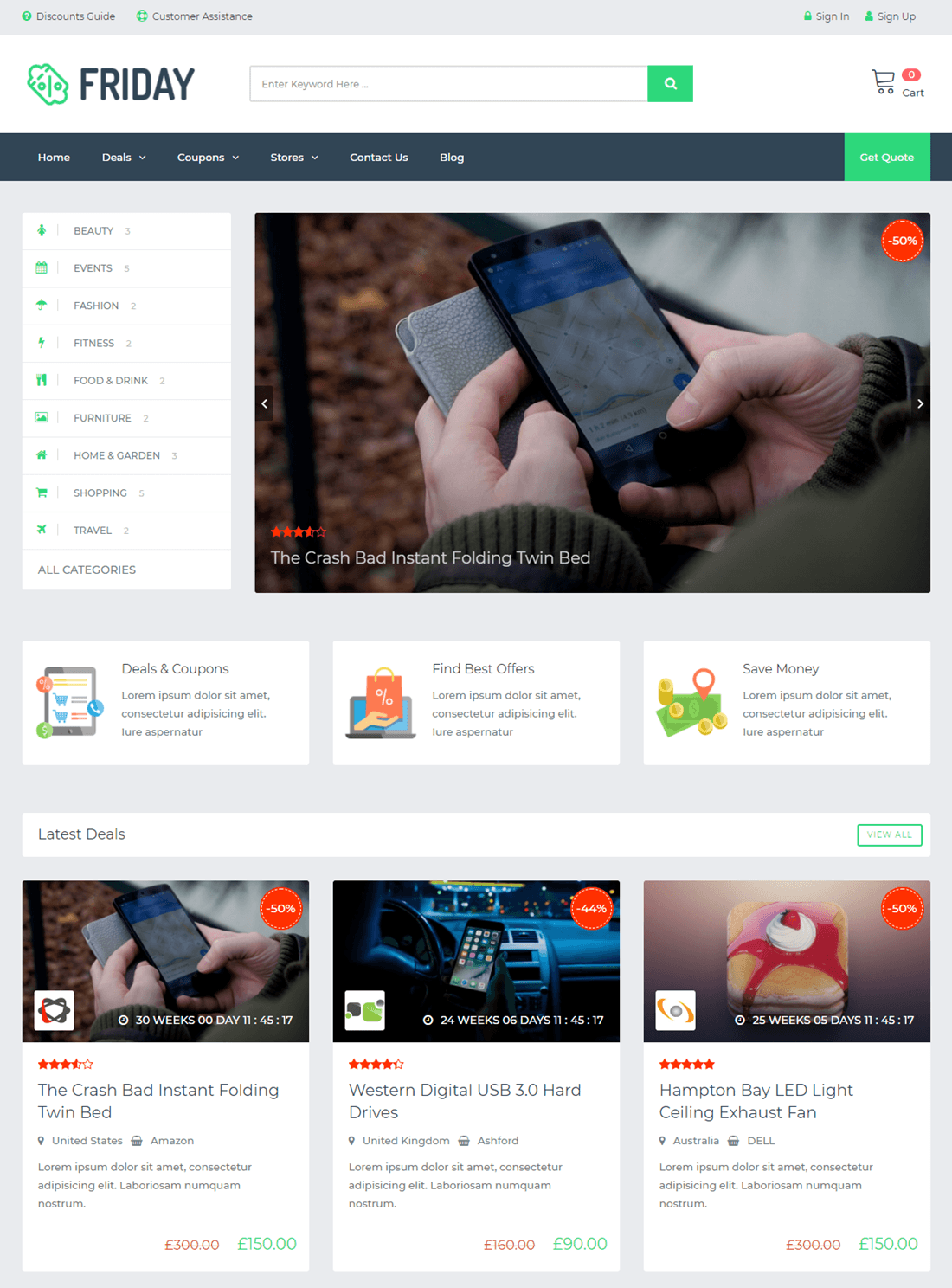 Froday is a flexible and premium WP theme from ThemeForest that can create deals, coupons, and discount WP site by its unlimited colors and fully responsive engaging layouts. You can create daily deals with limited time validity. Its dedicated membership system can create a members-only section on your deals site. Due to its full integration with MailChimp, emails can be sent directly to the subscribers. A dynamic search field complemented with Google-like autocomplete feature is provided on the theme's homepage.
Price – Regular License – $49/OneTime (1 Site)
8. CouponHut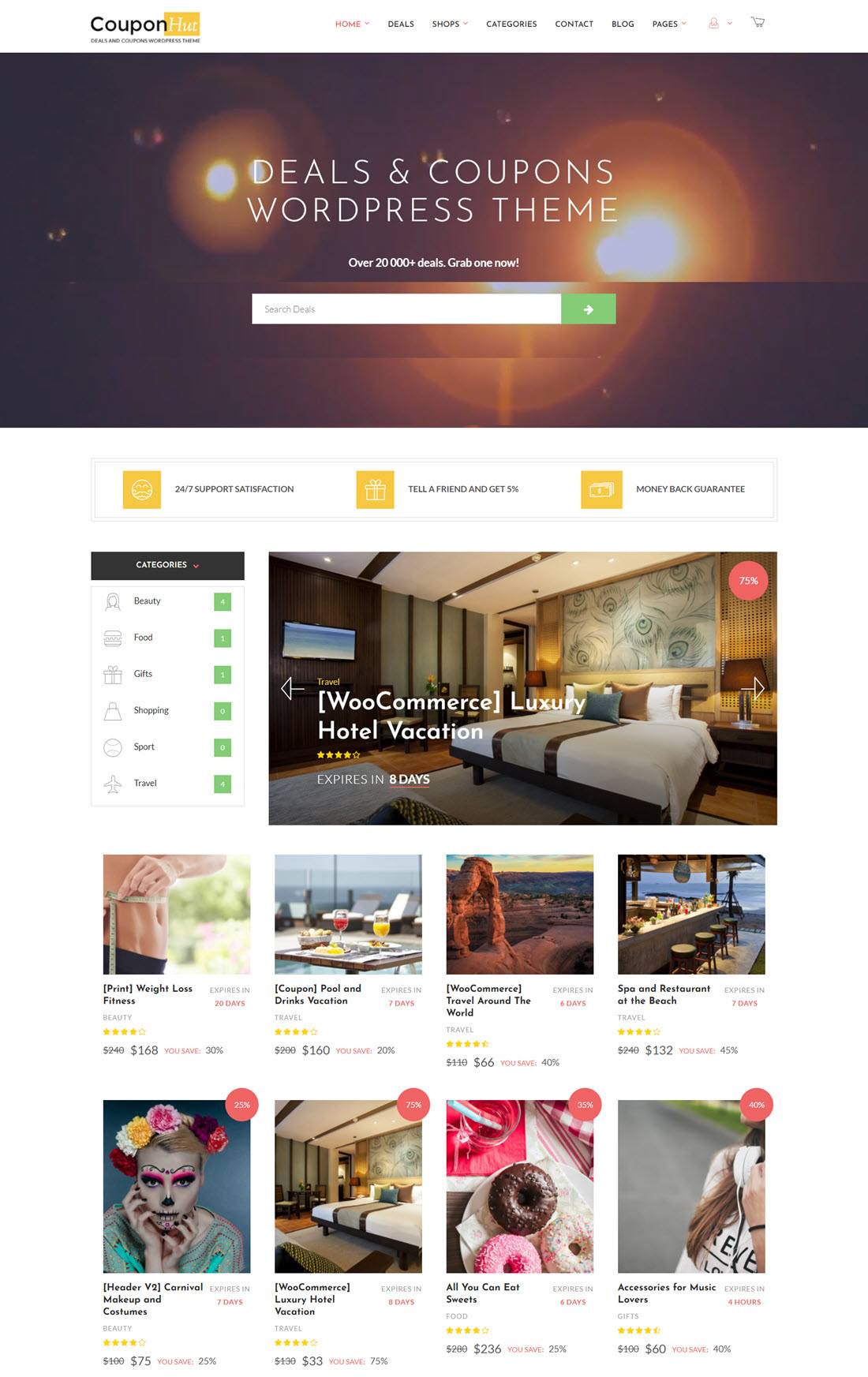 CouponHut from ThemeForest is a contemporary and lightweight WP theme suitable for Deals, Coupons, and affiliate websites. You can leave the files and codes untouched and modify the pages using the customization options of Geodeo. It features a powerful admin panel fully responsive and multilingual plugin. Geodeo is multi-site enabled, which means that multiple virtual sites share a single WP installation. Additionally, it comes with a MailChimp newsletter integration, drag-and-drop page builder, unique sidebars for each page and documentation, and a short video to help you set up the theme.
Price – Regular License – $69/OneTime (1 Site)
9. Dealsdot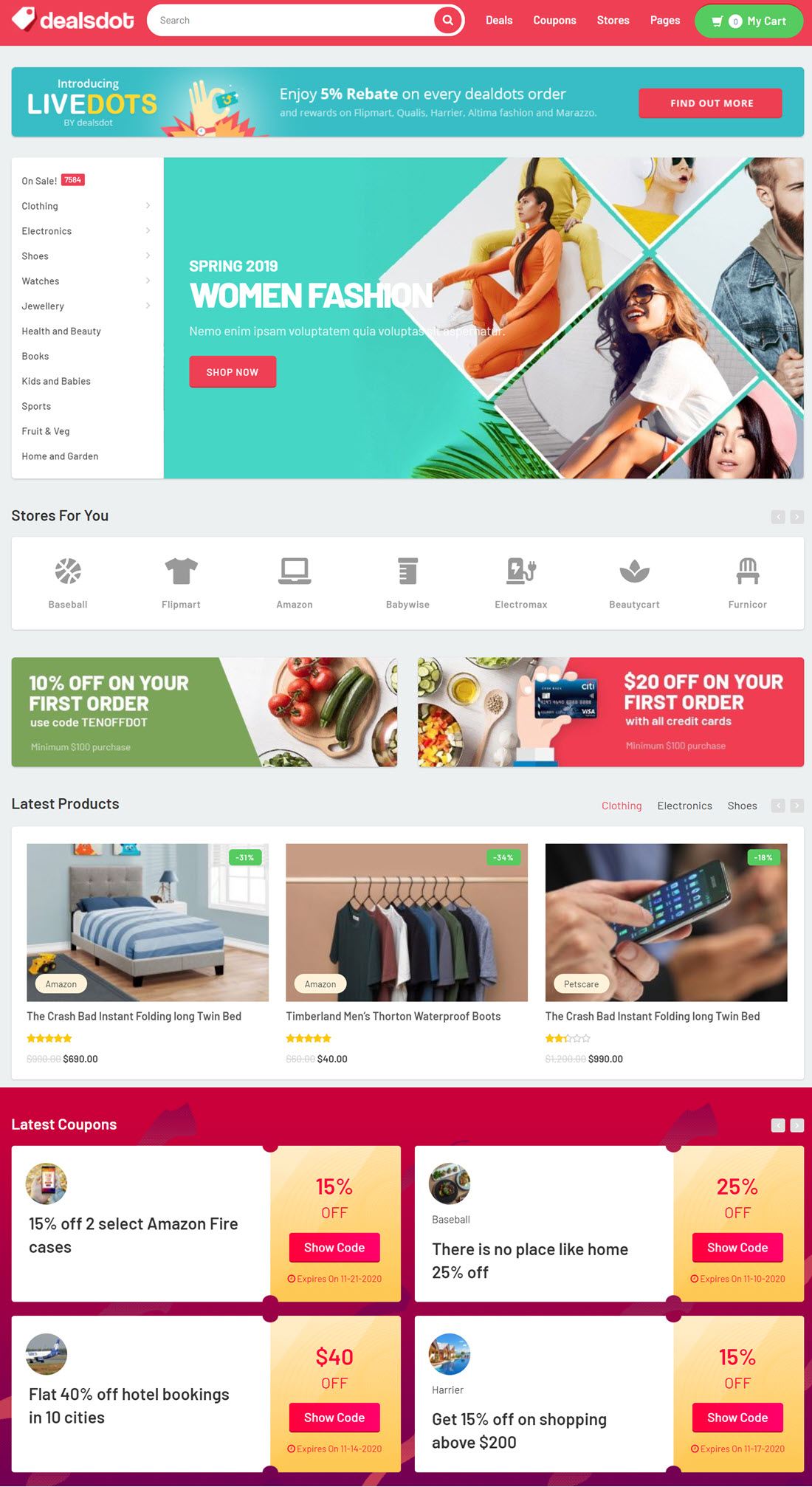 Dealsdot theme is a beautiful deals WordPress theme designed to ground up for the coupon business. Its fully customizable theme generates a high conversion or sales. You can design your site to match any brand with a professional sheen. Coupon features a modern and responsive homepage design to give a great first impression to the visitors. You can choose a theme that goes well with your business model. Besides, it is SEO-ready and WooCommerce compatible.
Price – Regular License – $49/OneTime (1 Site)
10. WP Deal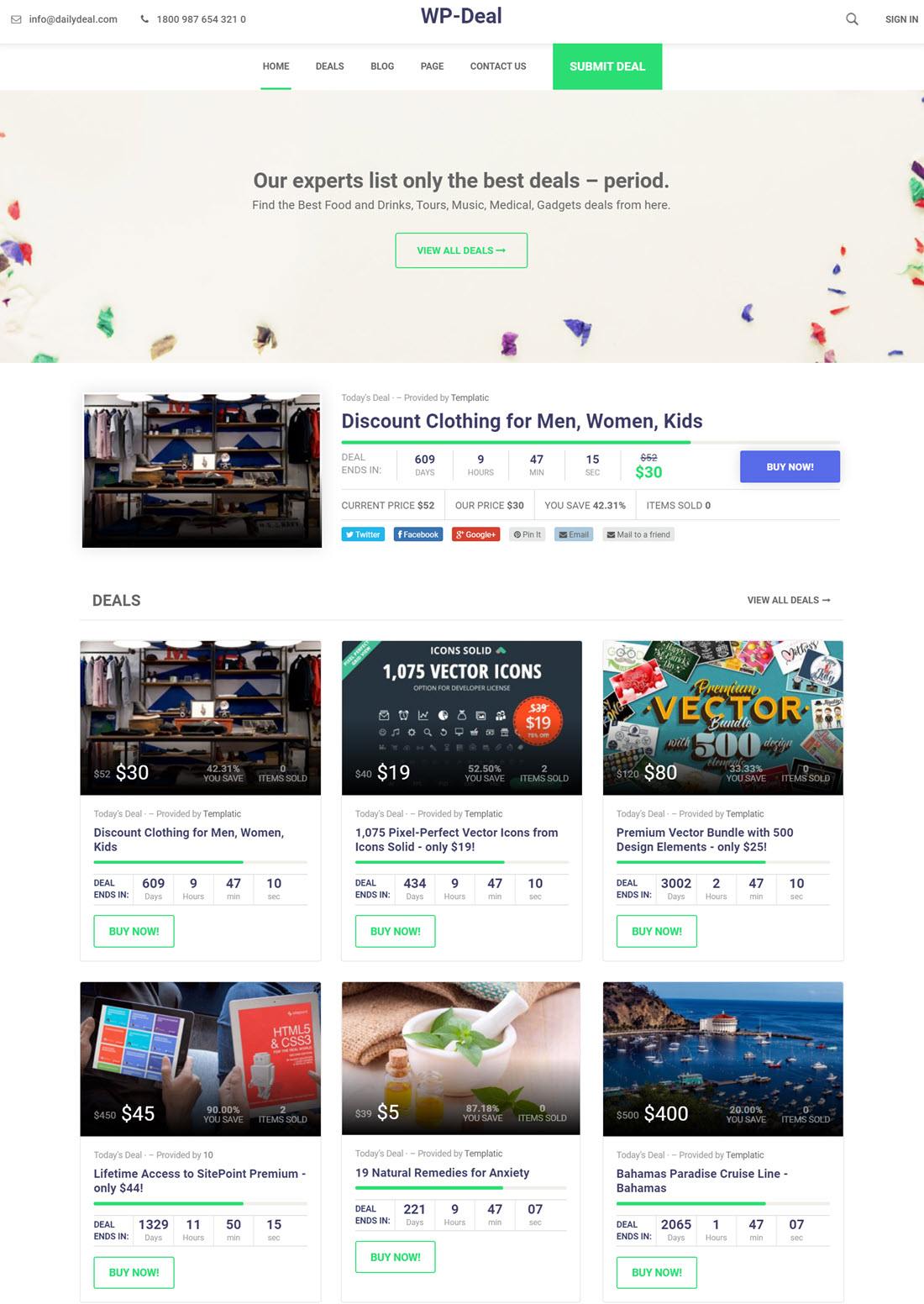 WP Deal is a simple, responsive WP template built on the foundation network. The theme can be used to store coupons, promo codes, and discounts for different brands and companies if you are looking to release a coupon and discount website with minimal investment. WP Deal features a custom themes options panel, GD star rating, and Wysija newsletters.
The design of the coupon post type can be customized using the theme. WP Deal is packaged with Flexslider.
Price – 1 Site License – $59/annually,  5 Site License – $99/annually
11. Couponis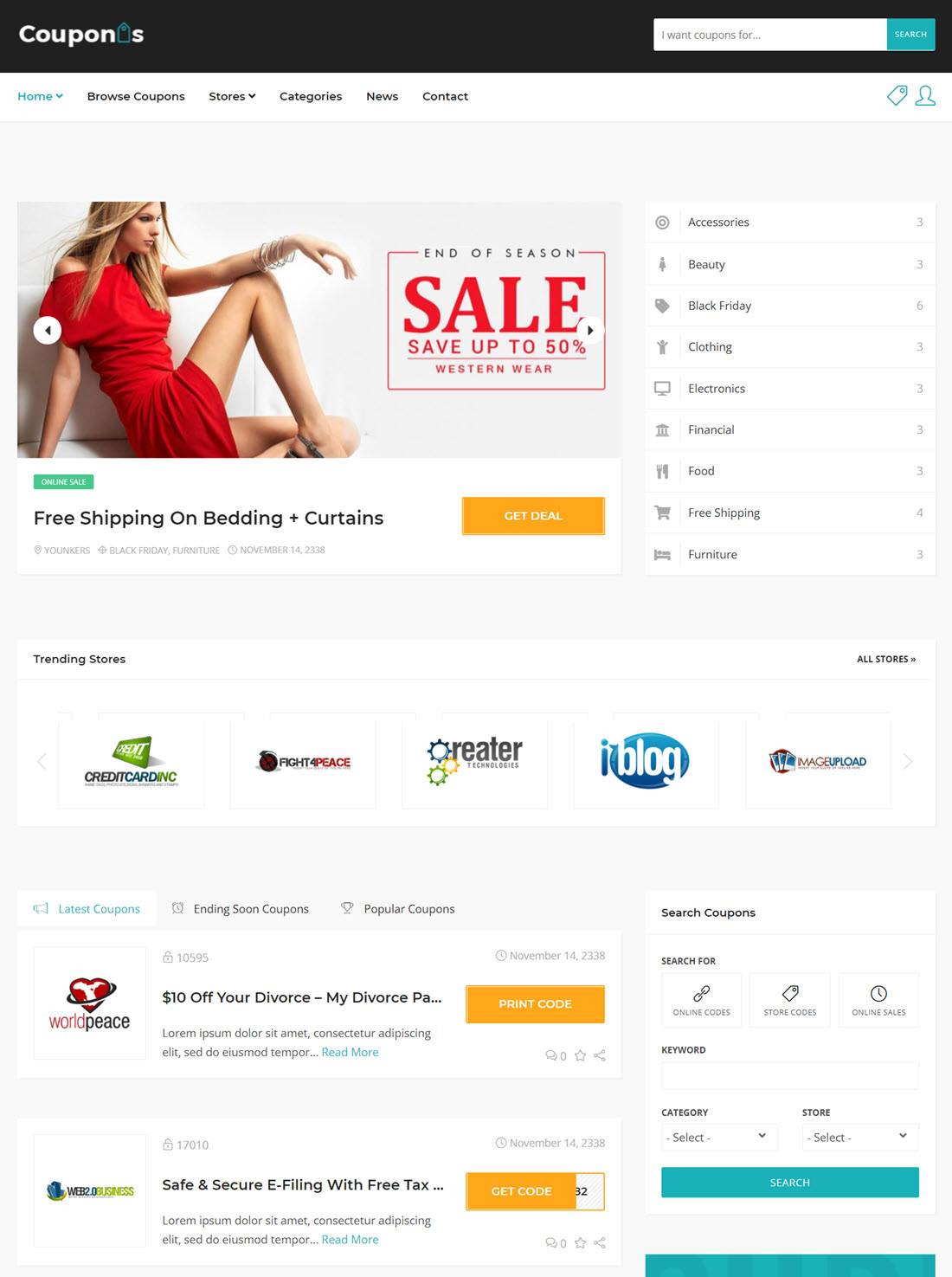 Couponis is another WP coupon theme designed to create coupon-style affiliate marketing websites. The theme offers a three homepage designs and a  good selection of layouts to choose from. The rest of the homepage can promote your best offers links to stores or affiliates. Thanks to its drag-and-drop builder that enables to help populate the entire homepage with elements and modules quickly. You can easily share new deals with your visitors through its compatibility with WP all import plugins.
Price – Regular License – $39/OneTime (1 Site)
12. CouponSeek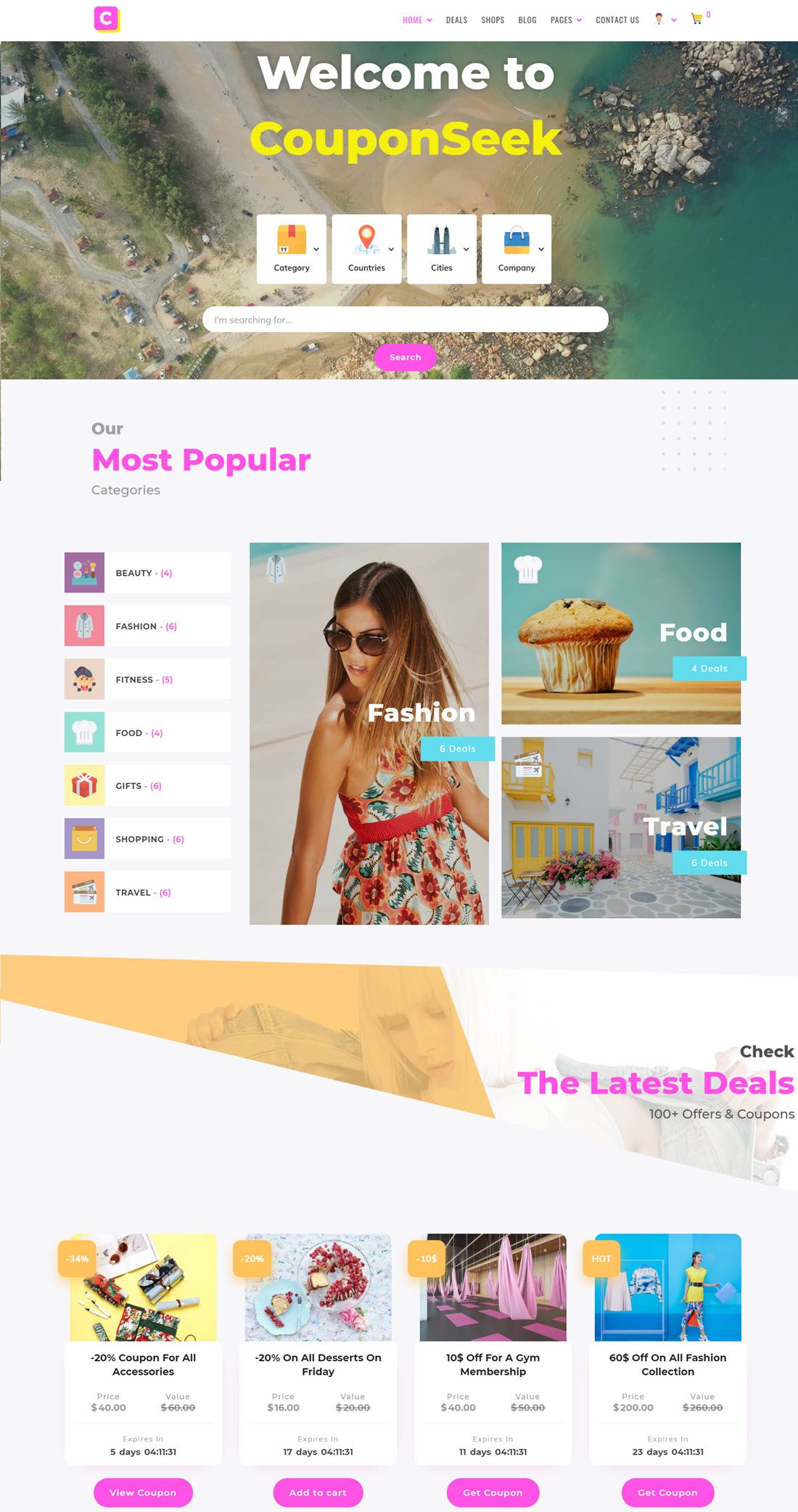 Dealsdot is the latest WordPress theme, an adobe of ultimate deals, coupons, and discounts. Group Buy Deals where a custom deal sales required can be activated, making it a fantastic choice for your next profitable deal.
The affiliate program can be downloaded via XML or CSV feeds via affiliate import. Only deals, only coupons or coupons, and deals can be chosen from the drop-down feature on the same website. An excellent credits feature of Dealsdot is credited and buying credits to submit deals and coupons. World wide used payment methods like PayPal, Skrill, Stripe, etc., are included.
Price – Regular License – $69/OneTime (1 Site)
13. CouponXL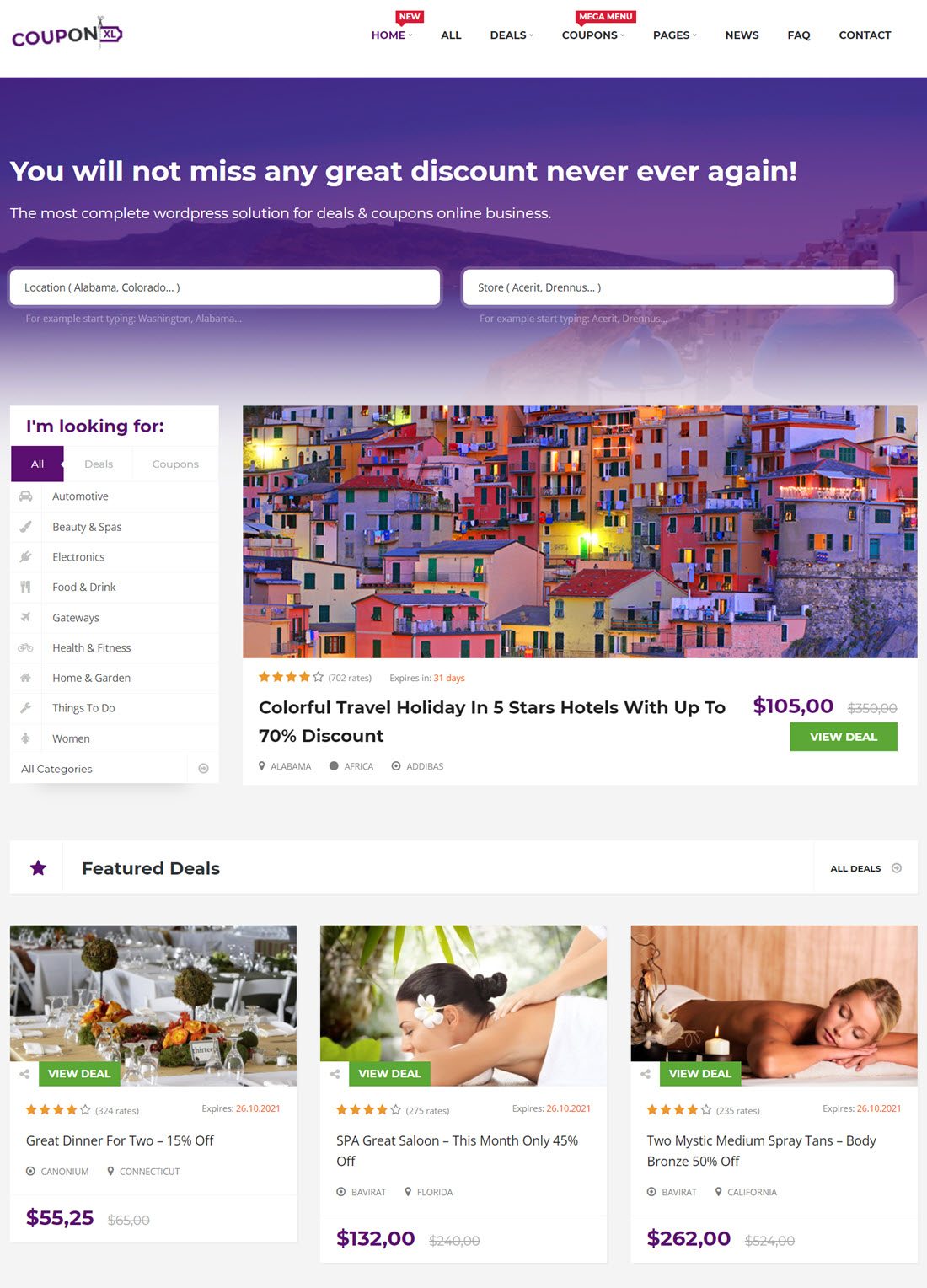 Coupon XL is an absolute deal and coupons theme for WP. Deals, discounts, or coupon shops can be easily created using a specialized theme. It is well suited for affiliate sites. Coupon XL works perfectly on all screen sizes based on the Bootstrap framework.
The theme is well supported by the major payment gateways like PayPal, Skrill, Stripe, etc. The website members can submit deals, coupons, or discounts using CouponXL. Its in-built random code generator helps to generate coupon or deal codes. AJAX-powered search, customized profile, geolocation, etc., are some of its valuable features.
Price – Regular License – $39/OneTime (1 Site)
Conclusion – This is my list of 13 WordPress Coupon Themes. I hope you would have found your theme, then consider sharing your theme name in the comment section.