8 Best Backlink Checker Tool 2023
Backlink checker tools are a great way to check the number of backlinks on any website. All of These backlink checker tools are free, and the best way to tell check referring domains, URL Rating (UR), Domain Rating (DR), Number of backlinks, Ahrefs Rank (AR) and Moz Rank.
Imagine you are going through an important article on a website. Still, at some point, you find a technical term or something you are not familiar with and skip it because you do not want to break your concentration, but again, another term appears. Now, what will you do other than copying that term and searching on the new google tab again and again? But, to make this process easier, there is a very common and popular term in Digital marketing named, Backlinks.  
What Do You Understand By Backlink??
Backlinks are the links applied on specific terms mentioned on a website page that redirect the readers to another internet page (website) by clicking on the link. For example, while reading an article about digital marketing, you find the term "SEO." Now, if the backline is applied there, the word SEO will appear to you in different colours (mostly blue) compared to all the other texts written over there. Further, you need to tap on the SEO, and a new page will open in the tab describing all about Search Engine Optimization. This is how backlinks work and increases the traffic on your website.
Let's Dive A Little Deeper To Understand Some Of The Best Backlink Checker Tools
There is a need to acquire quality backlinks to increase your website's visibility in Google search results and enhance your page rank. Getting quality backlinks to your site is the best way to raise your page rank and get more visibility in search results. To check whether the domain for backlinks is quality or not, some Backlink Checker Tools help to see if the domain is worth getting a backlink from. With the multiple checker tools, website owners can monitor their competitors and strategize how to improve their website ranking.
It says, "Good backlinks checkers are often considered SEO's best friend." It is important to know where your pages are getting backlinks, and you should more often evaluate link quality. Here, we have elaborated the top best 7 Backlink checker tools helping you to analyze your backlinks working;-
Table Of Content
1. SEMRush
You must have heard the phrase, "All in one." The reason for mentioning it here is because SEMRush lets you search for the best keywords, check backlinks, and look at your competitors' rank.

With this tool, you can access very relevant and important information that includes how your competitors have reached success. Further, it provides you with a free trial on the pro membership. Some other important functions that you can acquire with this tool are;-
Get the best dofollow link checker and link-making opportunities.
Help in changing the way of working of your website to acquire higher. Ranking.
Generate web content to attract more traffic.
Further, the SEMRush backlink checker can also help you find websites suitable for your backlinks.
In addition, SEMRush gives you a lot of importance about all the URLs you get into, including the backlinks pointing to the site. This is not the end, as further you can also track multiple competitor's websites and acquire information about the links. However, with the free account, you cannot search various websites, so you will need to sign up for a paid account to get all the access.
Pros Of SEMRush
A number of tools within it
Provides the precise data
One of the biggest SEO tool
Cons Of SEMRush
It can be a bit expensive for some of the users.
Price – Essential – $99/annually (1 Site),  Growth – $199/annually (Unlimited Site)
Screenshot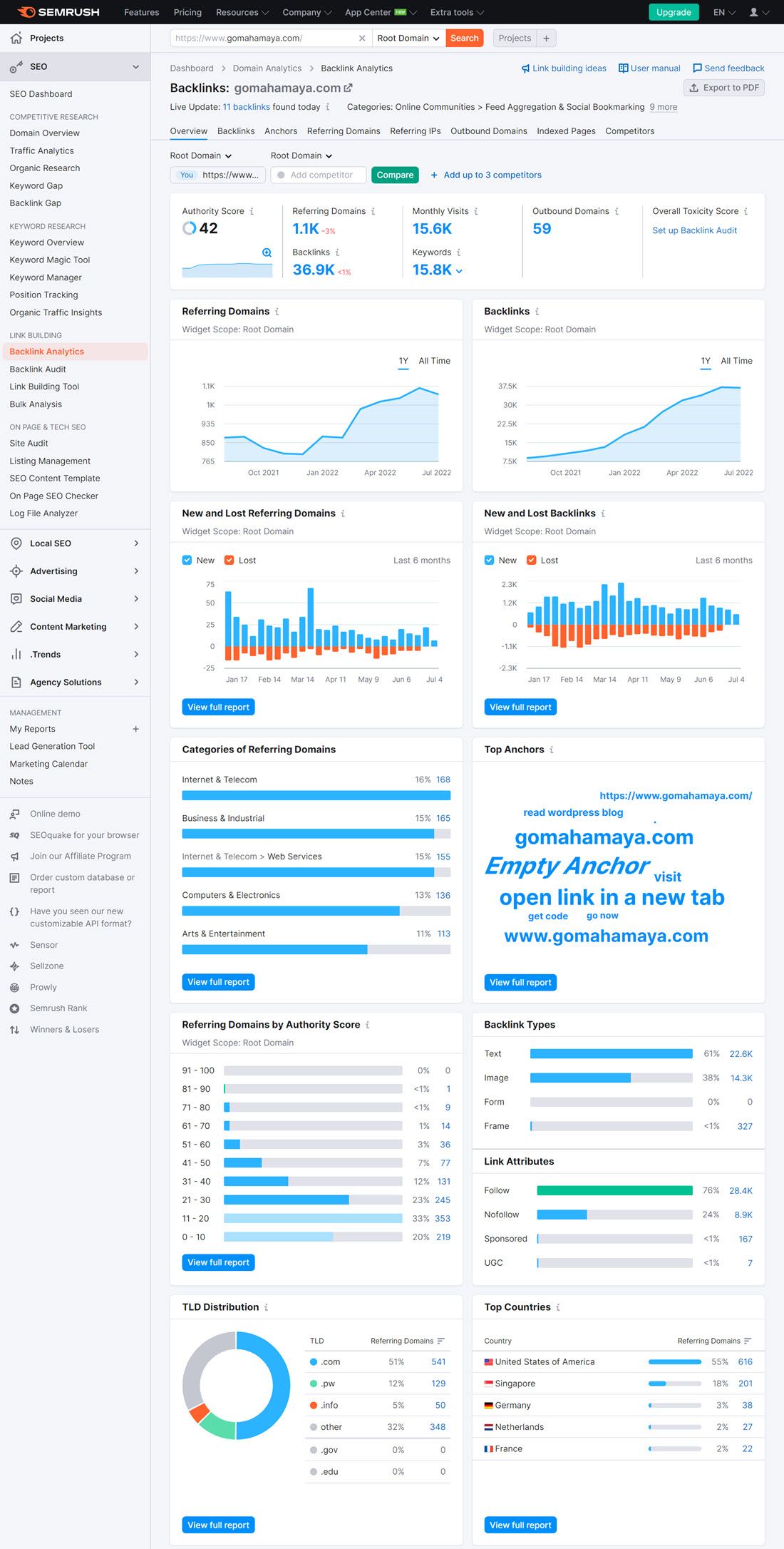 2. Ahrefs
Ahrefs is among the most powerful SEO and research tools having a great link index to store large data volumes.

Further, this, too, will help to spy on your competitors' backlinks, keywords, and many other relevant things. However, it is a premium tool, but you do not need to be concerned about it as a 15-day free trial with an easy-to-use interface is also given to you. Its dashboard is full of information, but it may be quite straightforward for beginners.
Ahrefs backlink checker allows you to register for a free account and get a complete analysis of your backlinks, like how many you have, where they come from, the anchor text used, and so on. It also displays you a graph on domains and a complete backlinks progress. It is the premier SEO tool in 2021, initiated over a decade ago as the best backlink analysis tool. However, it is an expensive tool, but you can check backlinks for free. In addition, when you sign up for a free account, you can automatically check all your websites for on-page SEO issues, new and lost backlinks, and many other valuable features. Ahrefs backlink checker is one of the best tools for backlink audit, so you can analyze when you win or lose with your new connection.
Pros Of Ahrefs

Cons Of Ahrefs

A bit expensive
Provides only organic traffic data
Price – Essential – $99/annually (1 Site),  Growth – $199/annually (Unlimited Site)
Screenshot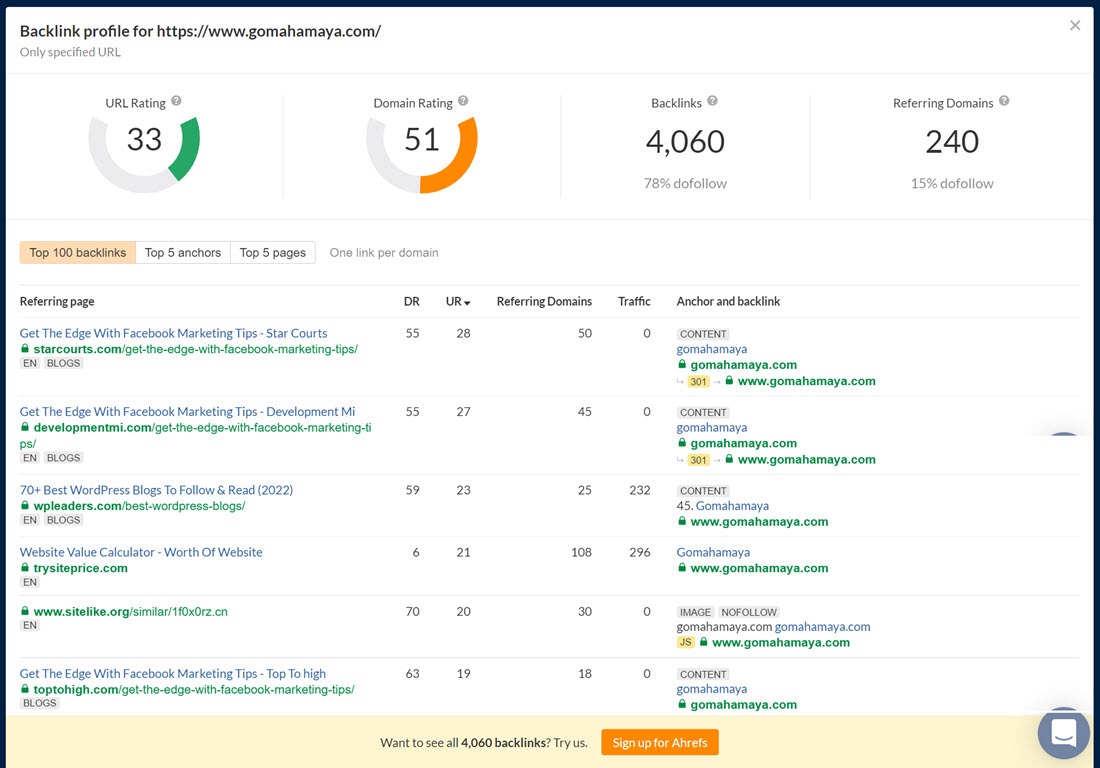 3. MOZ
Rand Fishkin built it in 2004. Moz is one of the most authentic SEO tools.
This platform is one of the best free backlink checker tools that aid in SEO marketing. It has a wide array of features to improve your digital marketing results and facilitate more effective campaigns.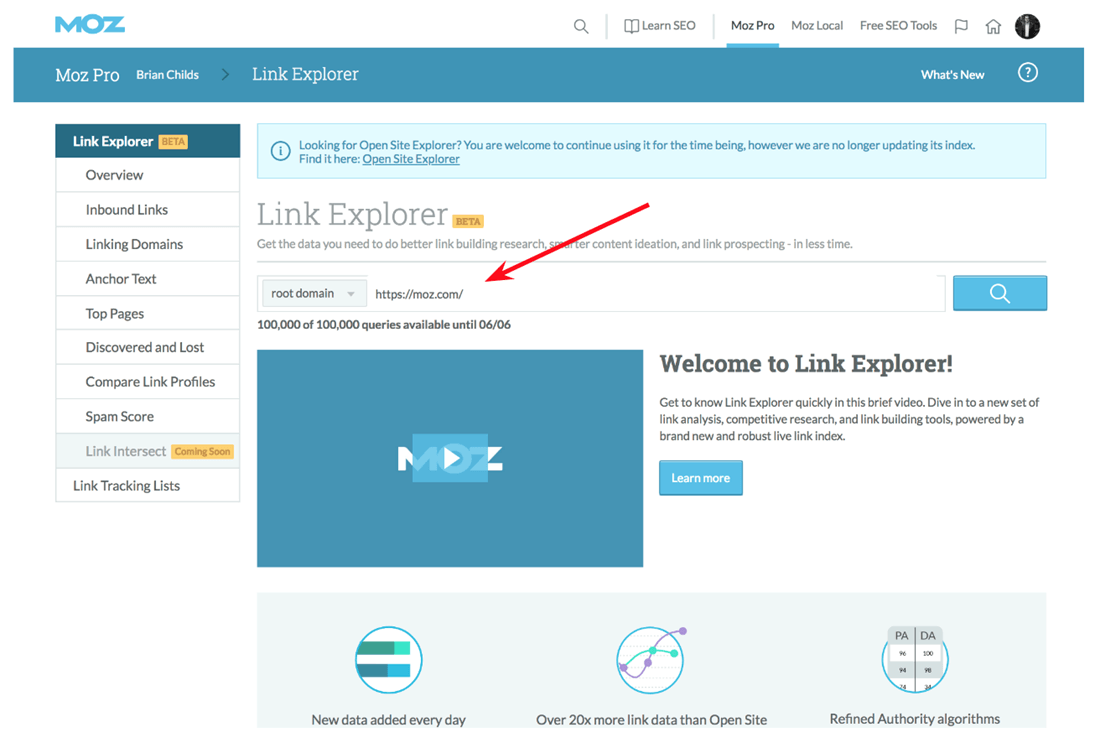 It is a great backlink checker tool that helps acquire more insightful data to build efficient link-building research. Adding more to its features, Moz comes with a multi-purpose toolkit that makes it simpler to use for small and large businesses. It includes campaigns to track and analyze the websites, checking the rank to understand the performance of your website in google search, and many more. Like all other backlink analysis tools, it also lets you see the different backlinks that you have lost so that you can try to get those links replaced.
Some Key Features Of MOZ;-
Keyword explorer that aids in determining queries that visitors use.
Fix broken links to your site
Help you with giving the links of your competitors.
Link explorer to help develop a better profile.
SEO crawling helps you check for common problems on your site.
Price – Essential – $99/annually (1 Site),  Growth – $199/annually (Unlimited Site)
Screenshot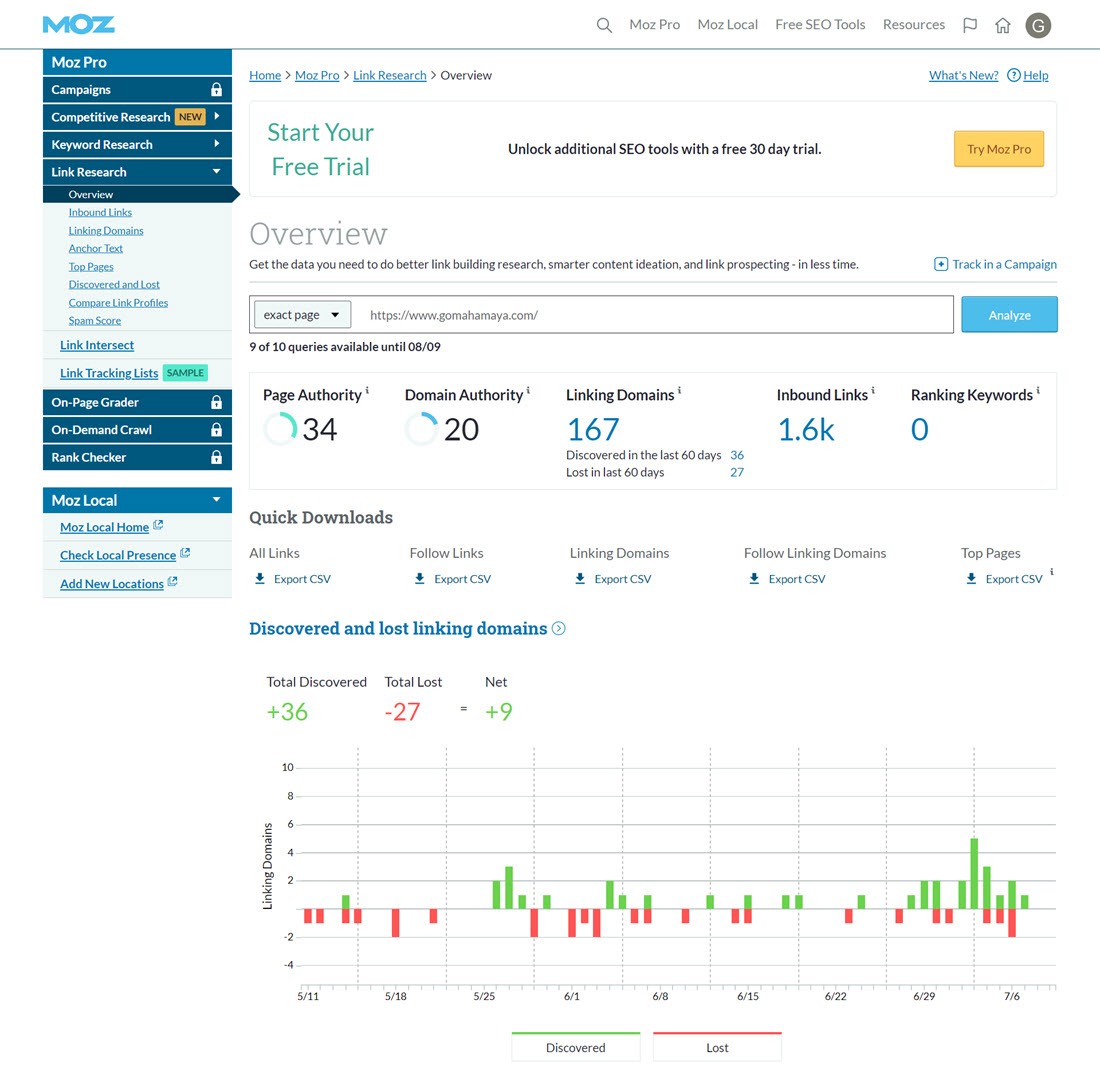 4. Link Miner
Link Miner is one of the best tools that help you check your domain for backlinks on your page and competitors' sites. Further, with this tool, you can monitor the competitor backlinks your site has generated and filter them as you like. Also, it has a variety of new features for its user that make it easier and quicker to use. It also provides you with a ten-day free trial.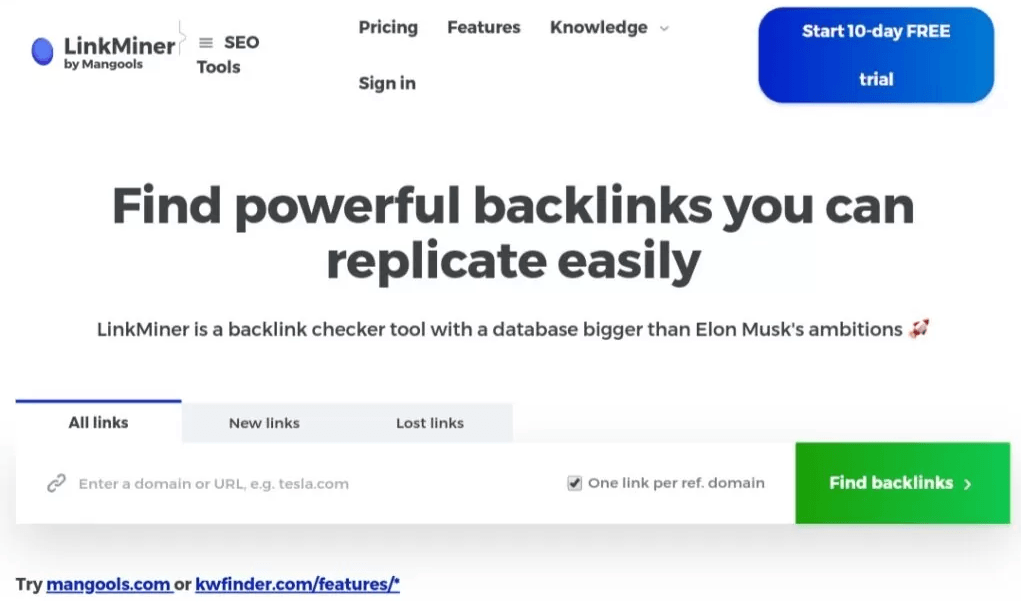 In addition, the website review feature provided by this platform makes the work more efficient when you compare the backlinks, as you do not need to switch the main window. It also helps you categorize specific link types so you know what to prioritize. The Link Miner feature of saving URLs made the process easier for later scrutiny. As a result, you can generate adequate data and enhance your productivity compared to other players in your sector.
It is designed specifically for backlink analysis. Another feature of this is that it is lashed with the 'favourite' backlink tool option, which helps you to come back to them easily, and in this way, you can shortlist your competitor backlinks and target them. In the end, you can keep track of the backlinks you want to fix like you can create a list of lost backlinks that you want to recover.
Price – Essential – $99/annually (1 Site),  Growth – $199/annually (Unlimited Site)
Screenshot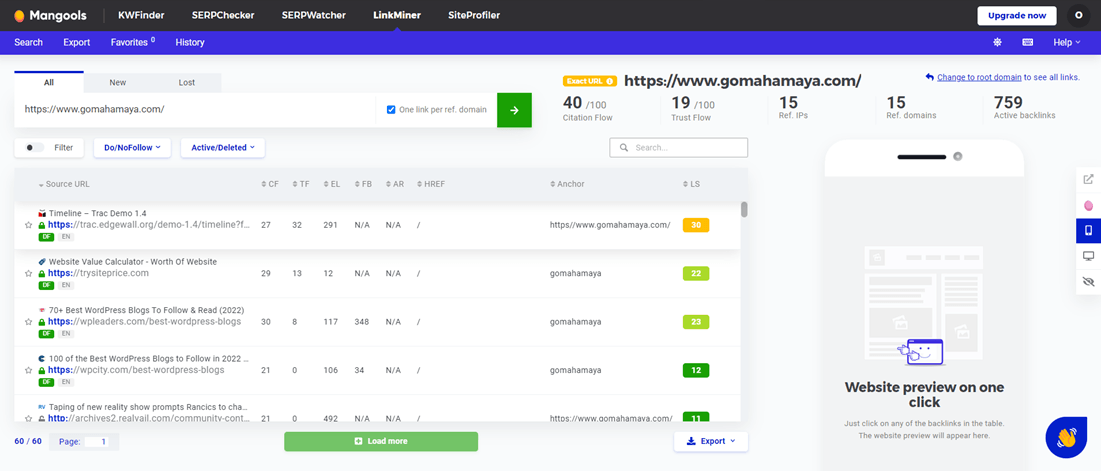 5. Buzz Sumo
Are you seeking a backlink checker for social media and content marketing analysis? If your answer is yes, then Buzzsumo will be your good pick. This is not just the statement but the reality as BuzzSumo helps you in various ways like;-
It is one of the best backlink checker tools that help you check website backlinks and your competitor backlinks.
Once your content is updated or posted, you will get an alert on links, keywords, brand names, domains, or author names. Consequently, you can understand the suitable step to take in your marketing.
Spy on your competitors and dive into their content to figure out your position and what would be good for you.
Its dashboard is user-friendly, minimizes your effort to search multiple domains and thus helps you obtain relevant information of your need.
With BuzzSumo, you can find out the most shared content on social media so that you can work on the topic that gets the most attention.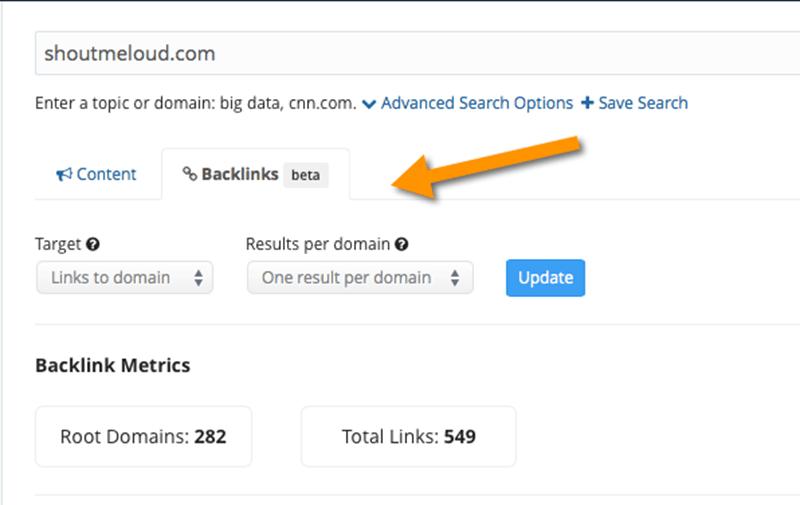 It helps you to know who is linking with your business so that you can build a relationship with those websites. This platform is too good for organic growth with backlinks, and the insight it gives you makes it easy for you to optimize your plans to get more backlinks for pages that are not performing well. If we sum up this all, we conclude that Buzzsumo is an effective tool that helps to review backlinks and find new ones.
Price – Essential – $99/annually (1 Site),  Growth – $199/annually (Unlimited Site)
Screenshot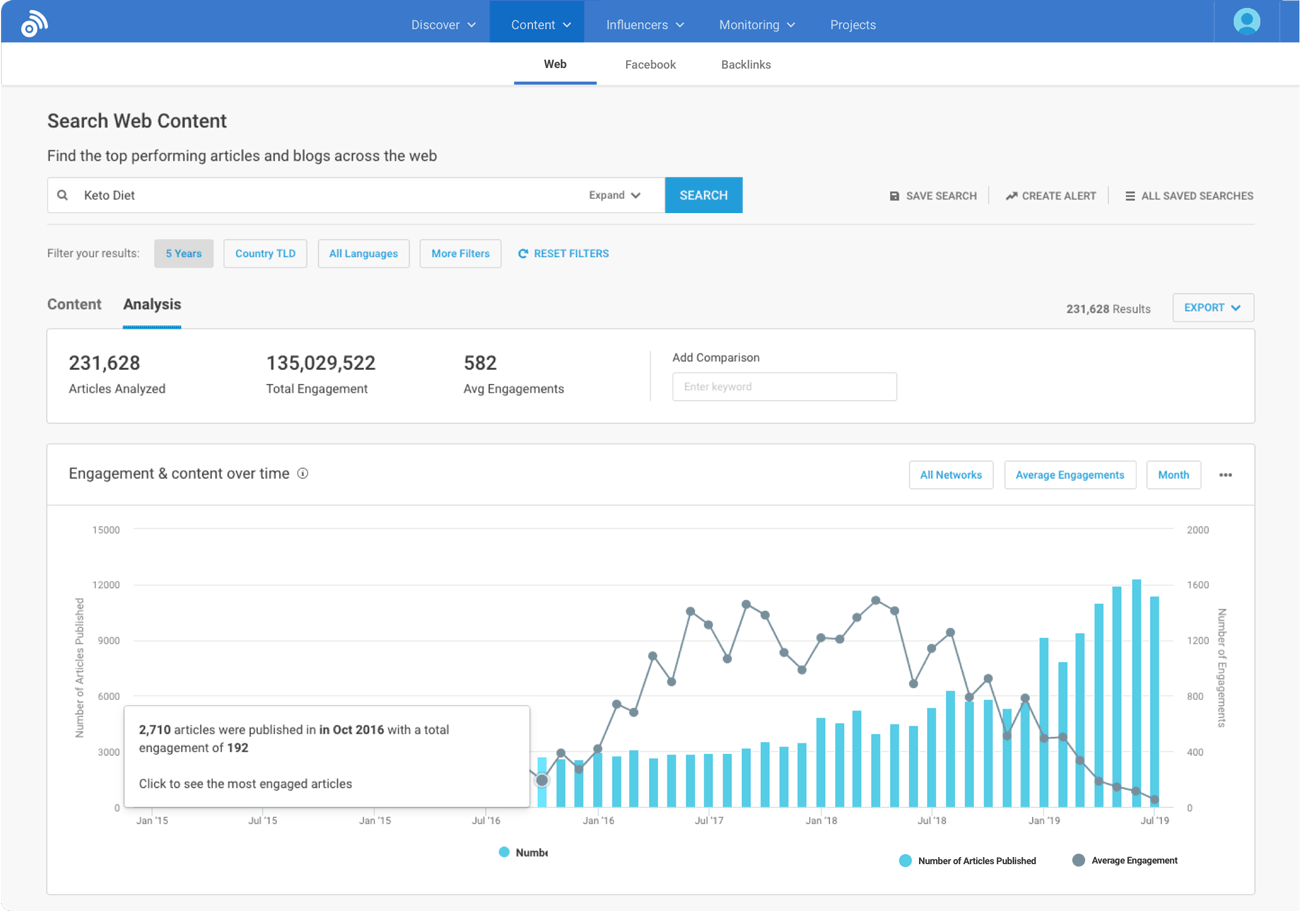 6. Small Seo Tool
One of the best and most free backlink checker tools is none other than Small SEO Tool (SST). It is a free backlink analyzer linked with Ahrefs' engine that helps display a detailed backlink report for your websites or web page.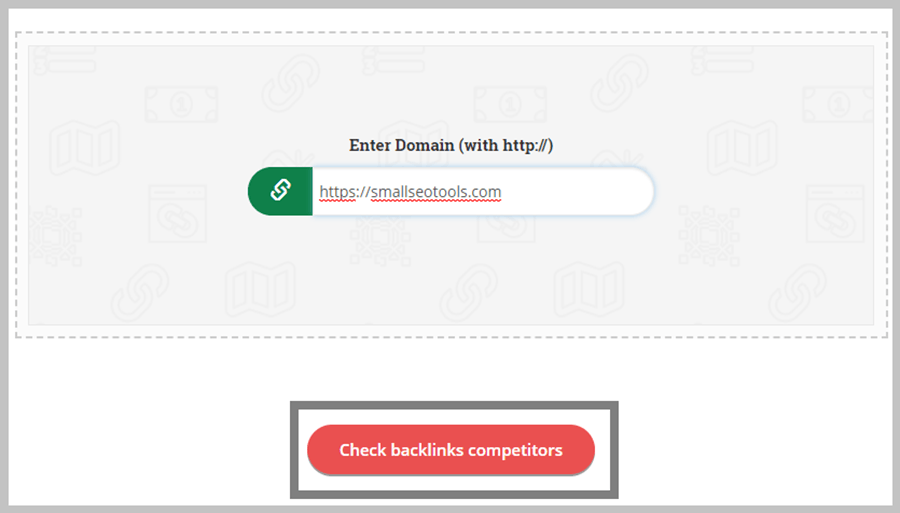 What You Can Explore With This Tool??
With Small SEO Tools, you will be able to do the followings;-
You can find and track where backlinks are coming on your websites
It keeps eyes on the keywords or pages that bring the most of the links
Since it is linked with Ahrefs, it will give you more than merely displaying the list of your site's backlinks
It shows the URL of all such web pages which are linked back to your website
In addition, Small SEO Tools give the complete backlink analysis and audit for various sites. It figures out the valuable backlink used by your competitors and examines them to find possible link-building opportunities.
Price – Essential – $99/annually (1 Site),  Growth – $199/annually (Unlimited Site)
Screenshot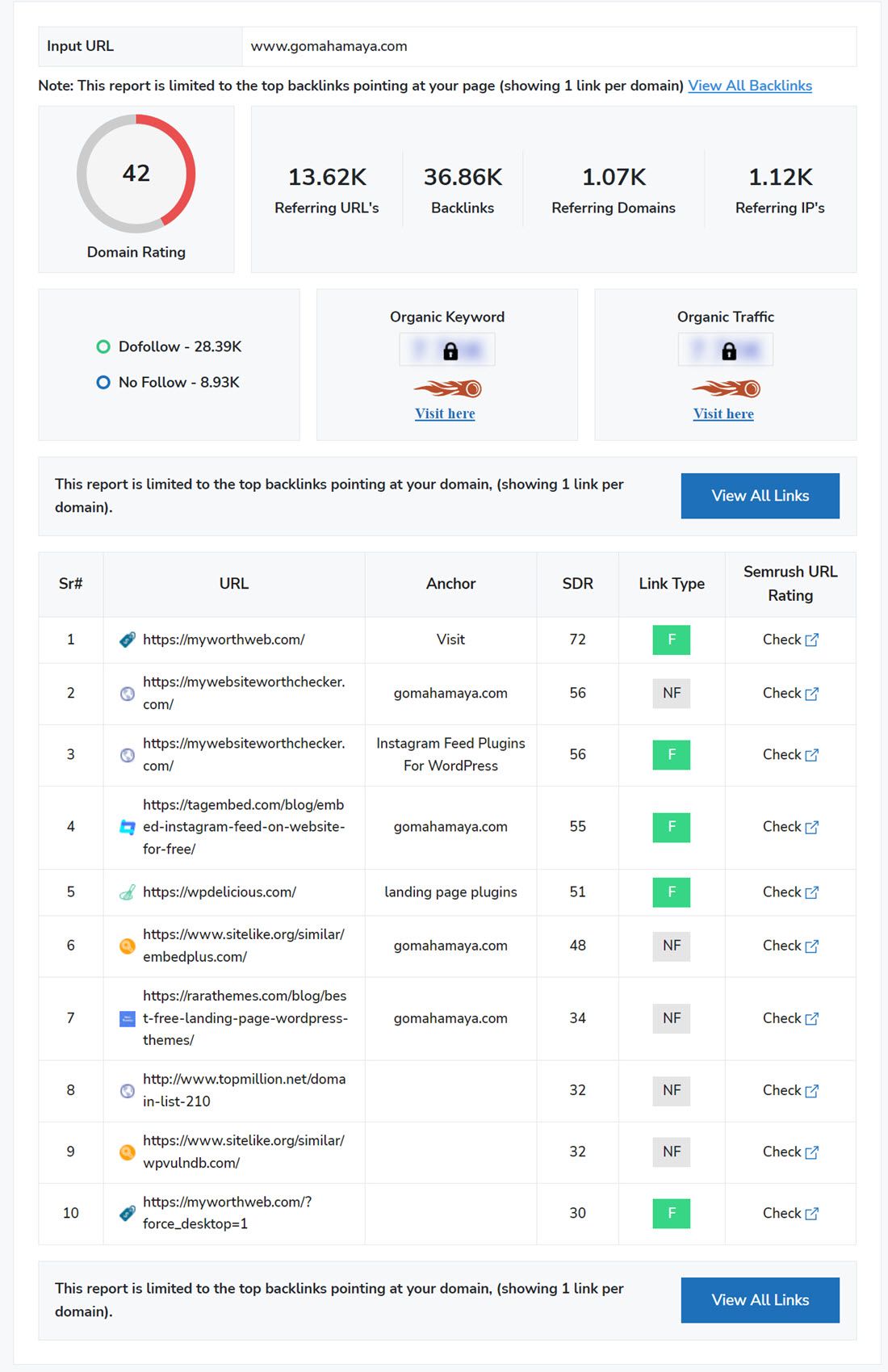 7. Ubersuggest
Ubersuggest is Neil Patel's tool which is one of the perfect among various other free backlink checker tools as it aids in getting keyword suggestions, keeping eyes on other players in your field, and finding new content ideas.
It provides a backlink analysis tool that you can use to get an idea of your site's backlinks. Ubersuggest provides backlink growth charts over time that help you understand how quickly your backlink count is growing. It gives the data of new and lost backlinks like the number of new "follow" backlinks, number of new "no-follow" backlinks, number of lost "follow" backlinks, and moreover. Ultimately, it provides a list of all the backlinks to your website. With Ubersuggest, you will find;-
The page title and URL source
Domain score
Page score
Link-type (text or image)
Anchor text
Provides you with the date on which Ubersuggest first and last detected the link.
However, many tools are used to check backlinks to your websites, but the Ubersuggest backlink tool elaborates every piece of relevant information. Once you go through the report, you will surely get a clear understanding of your backlink profile.
Price – Essential – $99/annually (1 Site),  Growth – $199/annually (Unlimited Site)
Screenshot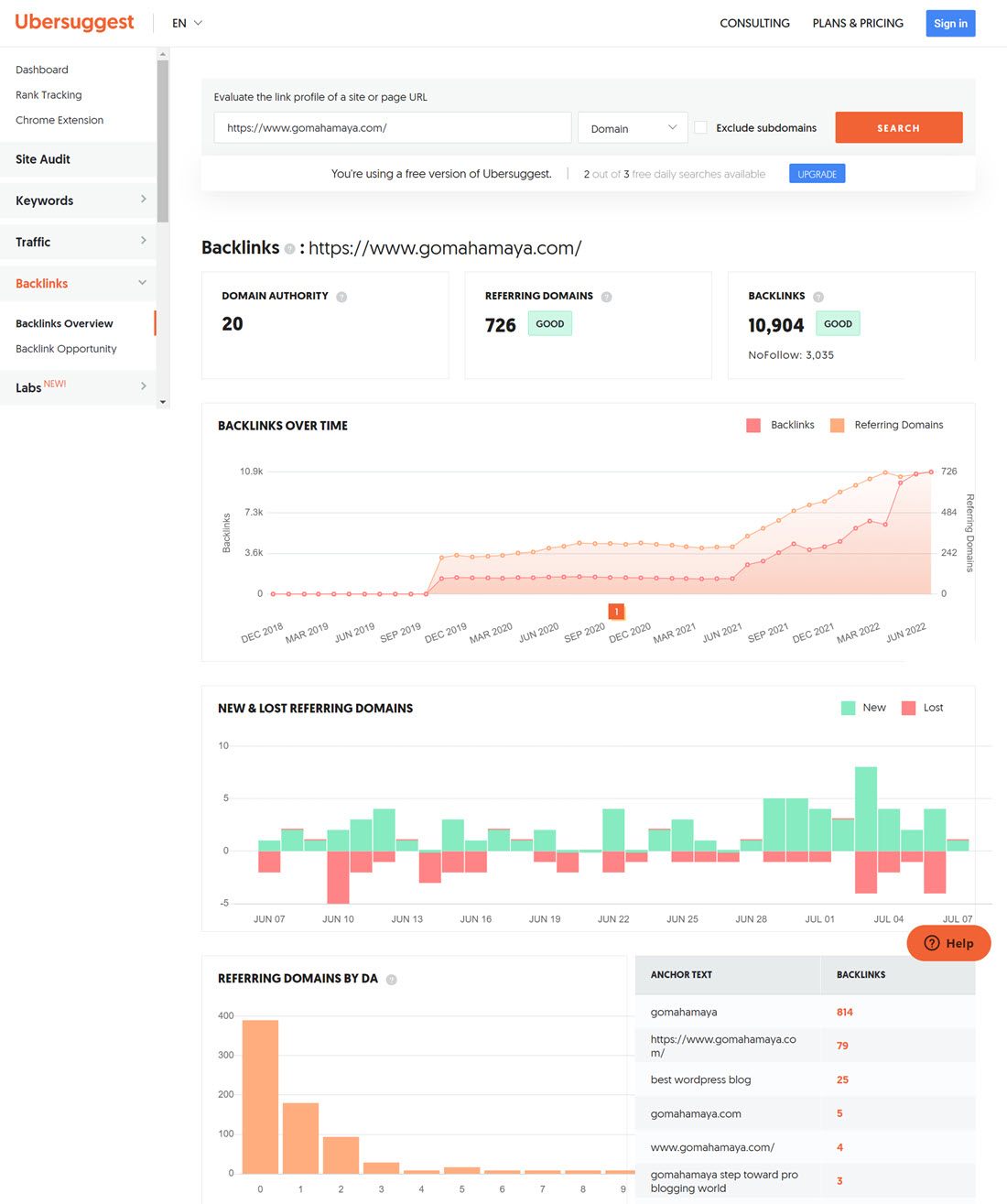 8. SEO Review Tools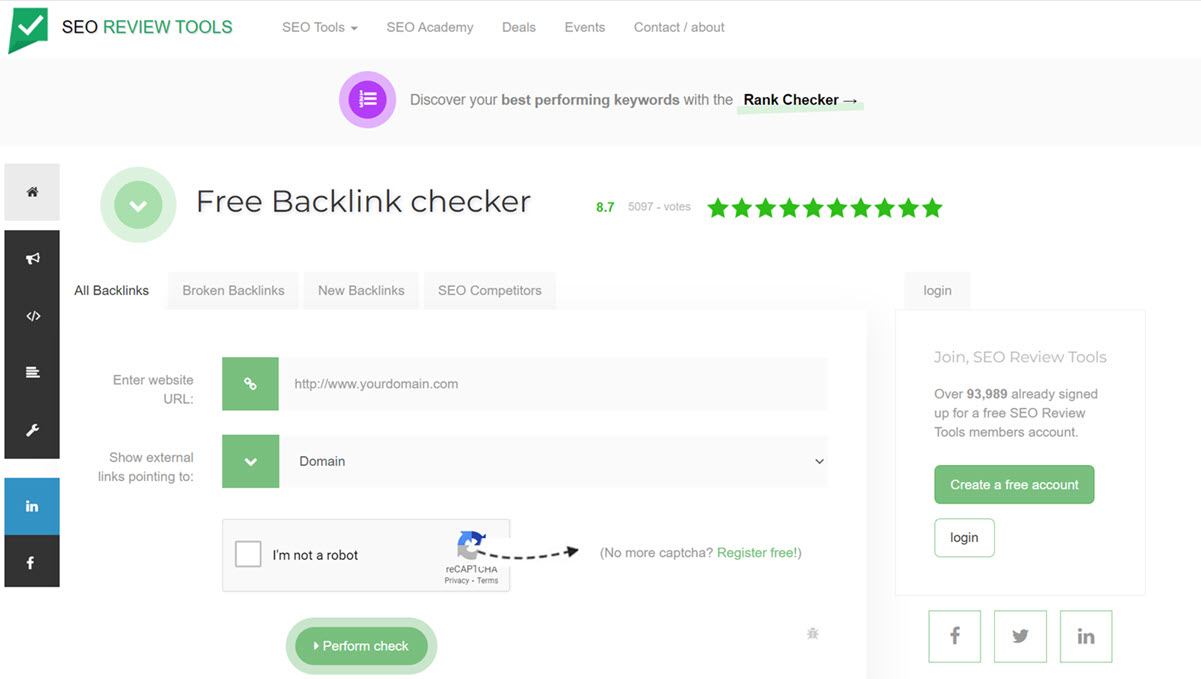 Price – Free
Screenshot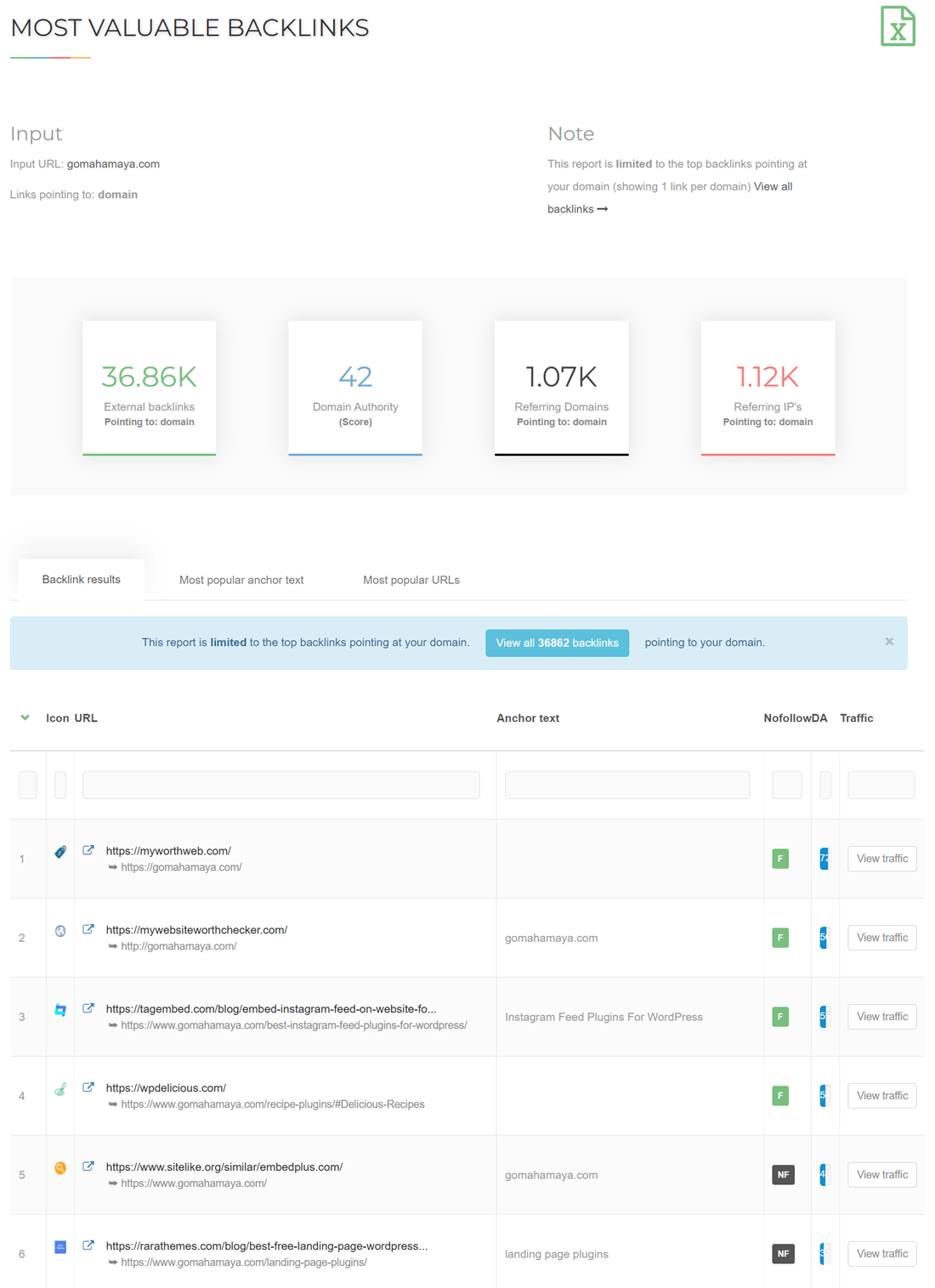 Conclusion
For optimizing your website, SEO is very important, and for that, backlinks are so important as they notify Google that a resource finds another resource valuable enough to link within its content. With good and effective backlinks, your websites can come into google search and thus increase the traffic to the site. But, to get a detailed idea of each of your backlinks and to spy on your competitor's backlinks, it is important to have a tool that will help you in backlink audits. All the above mentioned are some of the top 8 relevant Backlink Checker Tools that will help you get all the information you need to improve your backlinking and thus rank on google search.